Personal branding isn't optional. You have it, even if you don't know it. Did you know that as many as 90% of employers will search your name online or have a sneak peek at your social media before they make hiring decisions?
Put simply, you have a digital footprint that will comprise everything you've posted online, from blogs to a website if you have one, social media, and imagery, so if you're keen to get ahead or to build a brand that precedes you, it's time to get started.
Have a quick Google of your name, and it's incredibly likely you'll find a ton of content, much of which you might have forgotten about! Imagine a client, employer, or interviewer doing the same, and you start to understand why personal branding is so powerful and so very influential in a digital marketing career.
The Benefits of Having a Strong Personal Brand
As a digital marketer, regardless of your niche, a certain proportion of your work involves portraying clients or the business you work for in the right light. Branding creates credibility, brand awareness, audience trust, and customer loyalty.
Imagine you work in SEO and promise to elevate the SERP position of every client. However, when they search for your website, it's buried back on page 256. The impression a corporation might get is that if you don't have your own branding right or can't gain results for yourself, you're less likely to be able to achieve these objectives for them.
Another important aspect is that with millions of businesses, goods, and services all available online in a click or two, customers today make most of their buying decisions based on familiarity. If they recognize the brand, they're about 82% more likely to make a purchase, according to research by Econsultancy.
This same rule of thumb applies to digital marketing professionals, where if your name is known, you are instantly more visible and considered a thought leader or expert in your field, building on a reputation that clients and employers will rely on.
Think about public figures like Elon Musk or Donald Trump. Like or loathe them, you know (or think you know!) exactly what they're all about and what they stand for because they have carefully curated personal branding.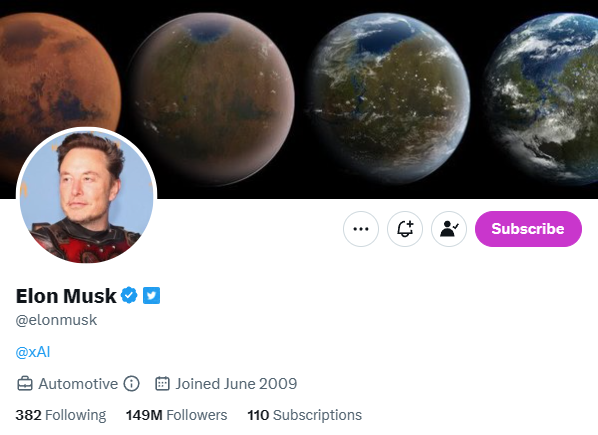 The Advantages of Great Personal Branding
Spending some time curating a personal brand means that you position yourself as someone with an established viewpoint, specialism, or perspective, which can help clients and agencies determine whether you'd be a good fit.
Although branding doesn't need to be political in any way, it's a good idea to think about what impression you'd like somebody to have when they visit your website, LinkedIn profile, or socials for the first time – and any potential information you'd like to keep out of the public domain.
Having a personal brand means that when somebody lands on any page that belongs to you, they'll form a lightning-fast set of ideas, such as:
Is this a digital marketer I think I could work well with?
Do they seem like someone who'd be collaborative and open to ideas?
Where do they stand on industry trends or particular issues that affect me or my business?
Are they somebody I trust to represent and nurture my brand?
Do they have the skills and knowledge to help me achieve my goals?
Personal branding means you provide all the details you'd like potential clients or businesses to see and have put sufficient thought into the way you represent yourself online to align with the types of companies or people you want to work with.
Personal Branding as a Differentiating Factor
One of the positives of having a well-developed personal brand is that you can ensure your profiles are consistent across every part of the internet you use. Rather than having some pages that are all about your crazy social life and love of dirt biking, and some that show a polished appearance wearing a Savile Row suit, you want cohesion so there is zero doubt about what you're like. Our tip – keep personal pages private to avoid disrupting your personal branding.
If your name is synonymous with ideas, you publish informative and genuinely useful information, or you have a unique personality that generates interest, you're immediately different from everybody else, stand out from the crowd, and appeal to hirers who want a marketer with that something special.
Another tip – don't assume personal branding is heavily corporate. Your personal brand should be true to your character, so if you're all about bright, bold color, and high-energy communications, keep that flavor of authenticity!
Authenticity in Personal Branding
That leads us nicely to the next point – if your personal brand feels a bit hollow, false, or lacks a genuine tone, it'll probably be painfully obvious. There isn't a roadmap, and your personal brand should be 100% based on what you love, what you care about, what makes your creative passion come to life, and the types of clients or campaigns that you truly want to work with.
Products and services are available everywhere, so the only real reason for a client to choose you over somebody else is this: they like you. Writing your content yourself (steering well clear of the dictionary tones of ChatGPT!) and being truthful while perhaps selective in the imagery you share and the content you publish is the best possible option.
If you work in content creation or copywriting, this becomes more important because even the best writers who can capture the tone of any brand they work with are hired as people, not companies – make your brand representative of the truth, and it'll be considerably more engaging.
How to Build Your Personal Brand
Now we've covered all the theories, let's get stuck into the practicalities. We'll assume you're completely new to the idea of personal branding, so skip past of any of the tasks you've already crossed off your to-do list.
1. Create a Detailed LinkedIn Profile
LinkedIn has roughly 930 million users and is one of the first places employers and hirers go when they want to find out more about a digital marketing pro they're considering. Having a half-complete LinkedIn profile with some vague details and one or two endorsements, unfortunately, is far from sufficient.
Think about:
Having a great profile picture and background – don't go for selfies, ancient photos, or grainy, low-res images, since this feels rushed and careless.
Headlines – listing your name and job title is bland and unengaging, so think about this as the shortest form of introduction to yourself you can write.
Add a summary; if this is fantastic, your visitor might decide there and then you're the marketer for them! Go for about three paragraphs, keeping it concise, and use this space as a mission statement or a summary of what you have to offer.
Don't forget the value of images! A picture speaks a thousand words. Take a look at Neil Patel's LinkedIn page below for a masterclass in graphics that tells you pretty much all your need to know.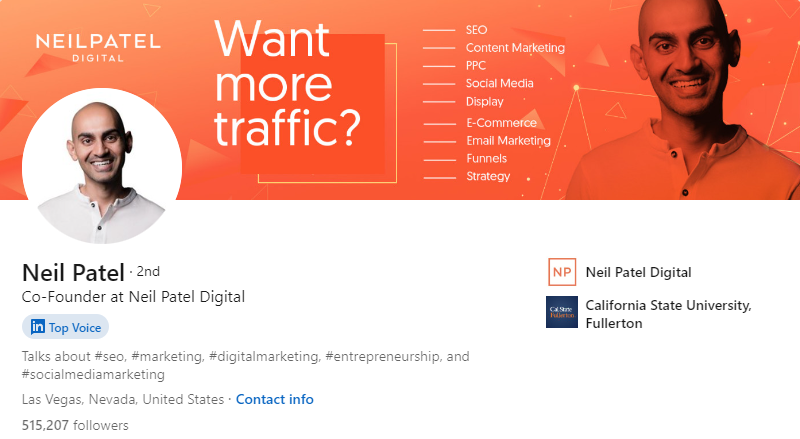 2. Write a Positioning Statement
Positioning statements can feel a little awkward unless you're already working in sales, but this is an opportunity to add context to who you are, crafted to meet the priorities of your ideal client or agency – this isn't a dating profile; it's a summary of your position and what makes you a great professional.
Time for some more examples – check out these positioning statements from well-known business pros who condense their core selling points in just two or three sentences.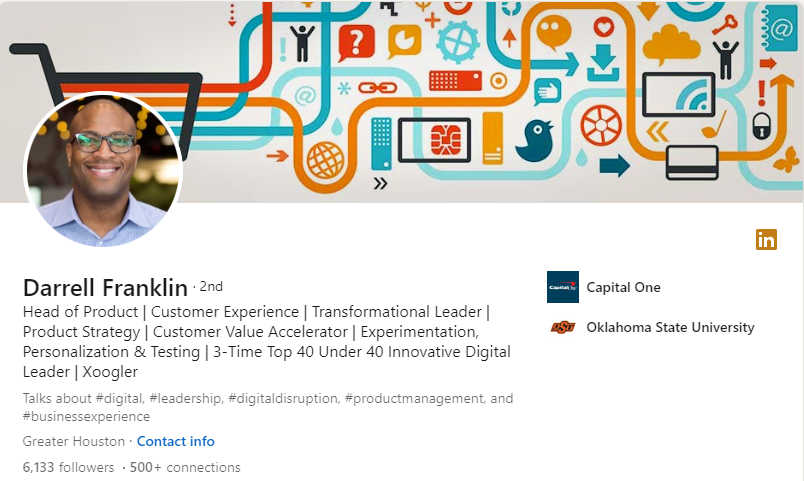 Darrell Franklin: Head of Product at Capital One 1, formerly of Google: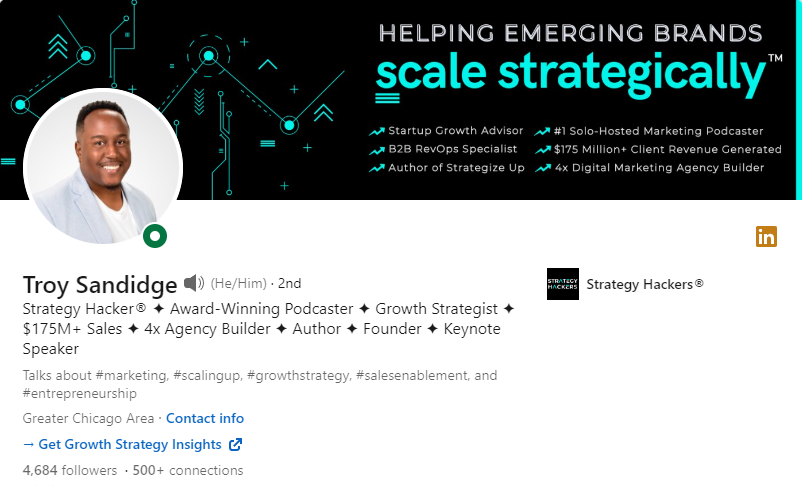 Troy Sandidge: Aka The Strategy Hacker®:

Think of your personal positioning statement as a short statement of the highlights reel from your resumé, and you'll be on the right path. Keep it tight, avoid overused tropes such as telling your visitor how driven you are – and write in the first person rather than writing as if it's an 'about us' page for your company website.
3. Make Yourself Searchable
If your name doesn't appear on the SERP, you need to turn your digital marketing expertise to your personal brand – because if you can't be found, you've lost the opportunity to add value, cement your position and create an interesting profile that clients will remember.
We might be stating the obvious but be sure to include those keyword phrases somebody might use if they're researching you – such as the work you do, the roles you perform or have had in the past or topics you regularly post about.
Sprinkling these phrases lightly within your positioning statement and profile can make a big difference to your digital visibility without making your text sound clunky or crammed with keywords.
4. Develop a Theme
While it's natural to feel like personal themes are a slightly odd topic, it's actually very important to adhere to those consistency goals we talked about earlier. If you use the same colors, patterns, designs, and visuals on all of your online profiles, you'll be easier to recognize and remember.
Think of Neil Patel's penchant for orange or how dark purple makes every single person in the UK think about Cadburys chocolate, and you'll see how impactful color choices can be. Consider the fonts, logos, and images you use, and make sure these match across your professional pages, socials, blogs, and any other channels you appear on.
Here's a final example to show you what that might look like in practice – this is a snippet from Richard Branson's Twitter page, where he's made a conscious effort to disassociate himself from the neon red branding of Virgin while establishing himself as a space explorer: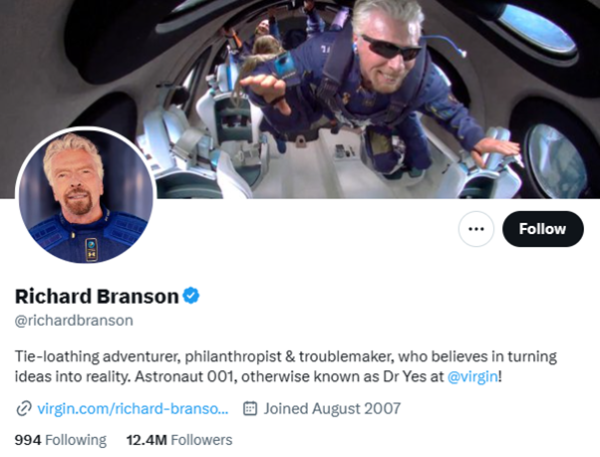 Replicating the same colors and matching his profile image to the background means the theme is unified and immediately provides a little context – check out his LinkedIn profile, which, although it has a different background page (as part of a campaign), is all tied into the same color palette.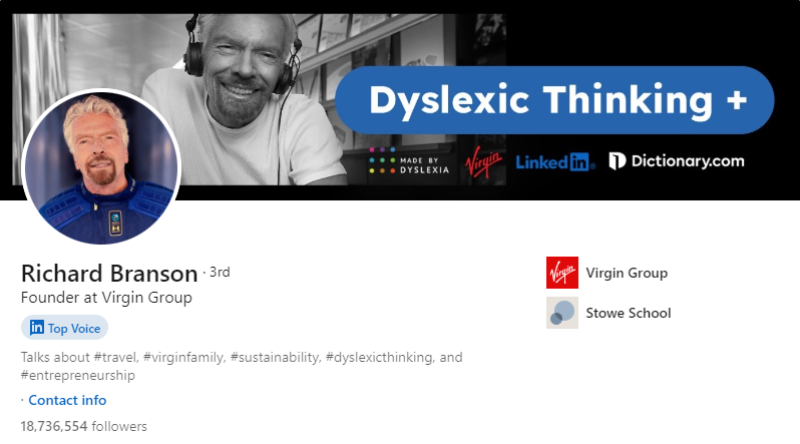 How to Know When You've Built a Personal Brand
Although personal branding isn't an exact science, it's a worthwhile exercise and makes a huge impact on your career and hiring opportunities. The idea is that you introduce yourself, and somebody already knows who you are without you saying anything else – because your name and face are familiar. Remember those statistics about familiarity? Someone who knows of you, even if they've never met you, will instantly be more engaged in the conversation.
You can also draw on your personal brand in an interview situation, considering the way you present yourself, the parts of your personality, knowledge, or skillset you want to emphasize most, and remembering that being a human and being true to your character is absolutely not a bad thing!
Other factors like body language, tone, and posture can also reinforce the validity of your personal branding, where the persona you have designed for yourself online perfectly matches the way you interact and communicate in person.
The most significant advantage of investing some time into your personal brand is that it's yours and yours alone. If you change employers, work for another digital marketing agency, decide to strike out as a freelancer, or simply choose to do something different, your personal brand can follow along.
Keep your profiles, socials, and online pages updated, tweak your personal positioning statement and brand visuals as necessary – change is natural – and you'll have the foundations of compelling personal branding that can be as valuable an asset as your entire portfolio of work.