If you want to increase conversion rates on your site, you need to find out what's off. That's where web analytics comes in handy. A mistake like having a large, distracting menu or a wrong focus keyword could jeopardise the whole campaign.
That's why the analysis should be detailed and comprehensive.
In this article, we'll guide you through the most important stages of the audit that will help you get leads and increase revenue.
What Does Conversion Rate Optimization Stand for?
Conversion rate optimization isn't just one action. It's a set of activities performed to increase the sales lead count of a website. It focuses on:
Increased revenue – the conversion goal is to turn visitors into leads and eventually into buyers. The more leads you get, the more purchases your business will see.
Better user experience – one of the most crucial things for every website is its user experience (UX). The term touches on website design, functionality, speed, etc.
Around 90% of users choose to shop with a competitor after a poor user experience on a website.
Improved retention – continuous use of your product, service, and/or feature. Not to mention this metric is connected to conversion and the overall quality of your website.
Now that we've established the goals let's dive into metrics you can analyze and adjust to increase the rate.
Using Website Analytics to Boost Your Conversion Rate
Many metrics may be the culprits for poor conversion. We'll review collectable data and visitor behaviour.
Collectible Data About Website Visitors
First of all, get to know your audience. In Google Analytics, for example, you can see the primary demographic data about your site's visitors. You can use it and/or other analytics tools to find out:
Location
Device
Age
Gender
Interests
New vs returning users
This will help you create a profile of your audience, which will help in future marketing campaigns.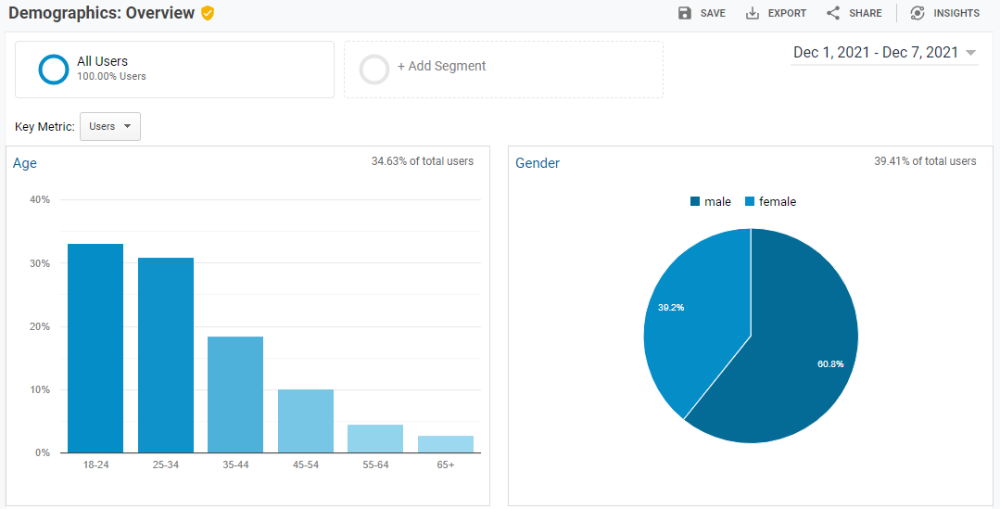 Google Analytics demographics overview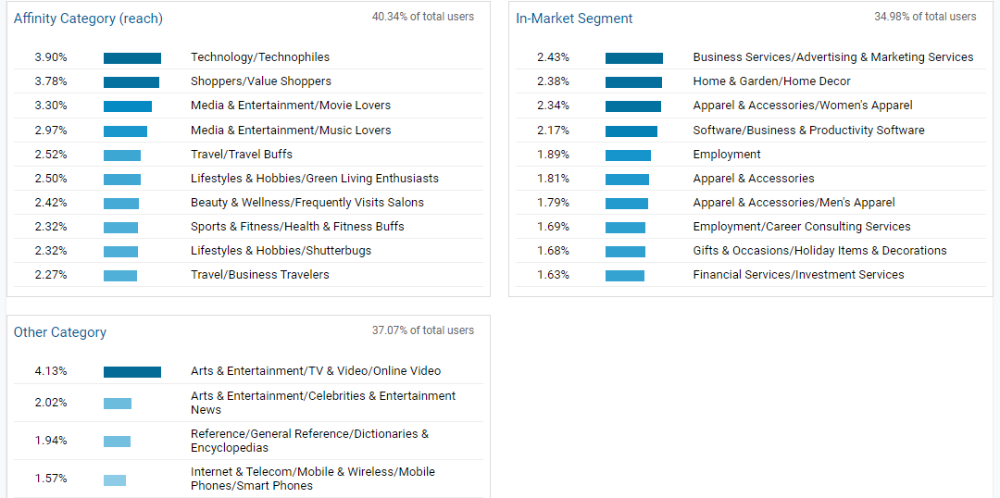 Google Analytics interests overview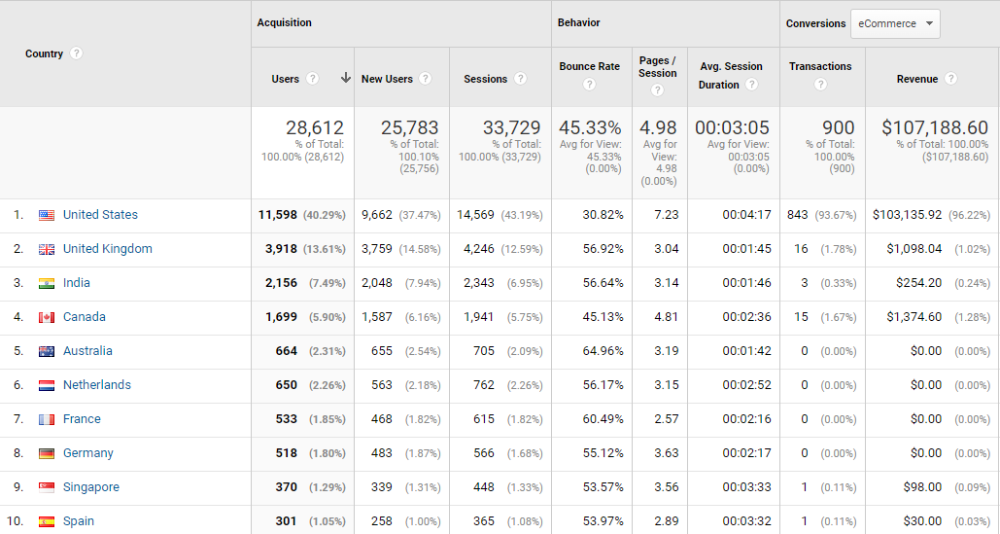 Google Analytics – Visitors Location
By learning about your website's visitors, you can create a more detailed and precise target audience profile, which will help you with targeted advertising and the overall marketing direction.
Traffic and Connected Metrics
Traffic refers to the people visiting your website. Their behaviour is essential for the performance of your site and the success of your business. High bounce rates, low average time on page, and low conversion rate indicate there's something wrong with your site, content, marketing, targeting, SEO, etc.
Here are the most crucial metrics concerning your existing traffic that you should definitely include in the analysis:
Traffic sources.
There are different kinds of traffic:

The organic type that comes from search engines
Paid traffic, which means you somehow paid for people to visit your page (ads)
Referral, which means people clicked on a backlink on another website
Email traffic that comes from email marketing
Social traffic that comes from social media (that's why it's crucial to have a link or two to your site on SNS)
Direct traffic – a share of people accessing your site directly by typing it into the site field of a browser.

Average time on page.
The time on-page should be estimated according to the type and volume of content on the page. But commonly, if the time is too short, the page may be irrelevant for the user. The content may be too complicated and confusing if it's too long.
Pageviews

Pageviews are the number of times pages were loaded in a browser. Don't confuse it with visits, including more than one page-load in a single session. See the screenshot from GA for reference.
Bounce rate.
This is the rate you should minimise behaviour. The larger it is, the more people visit your website and leave right away without clicking through.
Exit pages.
Pages where users end their visits to your site. Further analysis is required if one particular page stands out.
Click-through rate (CTR).
Click-through rate is the ratio of clicks on your ad, a specific link in your email or website, to the total number of impressions.
Conversion rate.
The rate we're doing in this article. It's the ratio between all the users visiting your website and those who have become leads (who left contact info in a form either on the site or landing page). A rate between 2% and 5% is considered good.
To gather more information about the users accessing your site, there are services like Hotjar

You can create surveys, record user behavior on the website, and get heatmaps to find out what site spots are the coldest and need adjustment.
6 Methods to Work on Website Analytics to Increase Conversions
Simple monitoring of the metrics we've mentioned above isn't enough. You need to do something to improve them to achieve better conversion.
Here, we have six methods of working on those metrics that will help you reach that goal.
1. Examine visitors' behavior and actions on pages
Nowadays, you can directly see what people do on your site, where they click, how long they stay on the page, etc.
Why is this important?
Because you can predict their behavior, build a site map, and post content you see fit. By assuming the role of a user that doesn't know a lot about your company, products, or services, you will gain a new perspective and discover issues you may not have noticed before.
Along with the Hotjar features we mentioned above, you can try using Lucky Orange to record user behaviour, for example. Such recordings will help you find out exactly why people don't convert, where they stop, where they spend too much time because the content is confusing, etc.
Along with regular analytics, such data essentially makes you the user, offering valuable insight into what works and what doesn't work.

Lucky Orange
2. Work on website SEO
One of the most important reasons why your sales lead list is short is SEO. Poor search engine optimization of a site leads to low page rankings in Google, Bing, or another key SE.
This sector includes how your website is built and optimized to selected target keywords. Your backlink profile also counts as the quality and quantity of links that matter to evaluate website credibility.
Gladly, there's SE Ranking. It's an SEO monitoring tool that helps with multiple SEO tasks, including:
Research competitors
Research and find keywords
Check backlinks, etc.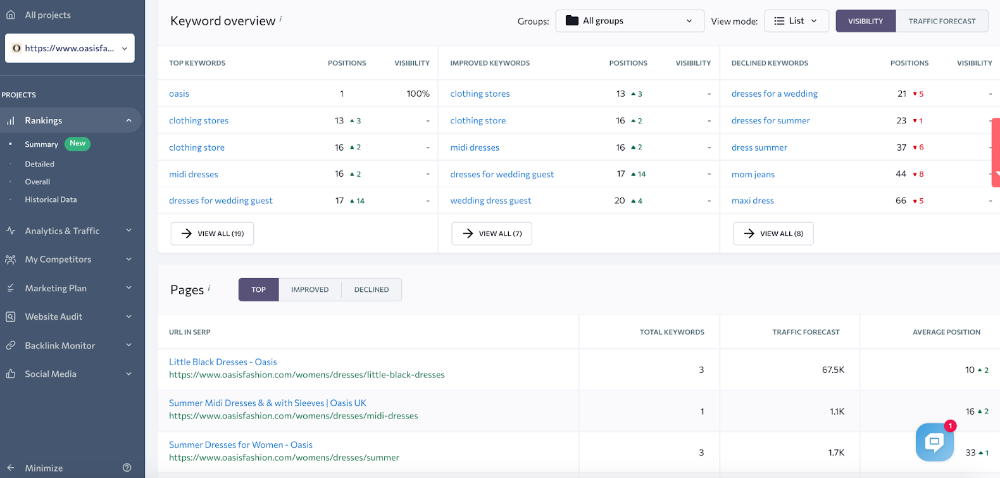 SE Ranking SEO Software
Plus, the company has a multifunctional Website Audit tool that will help you see what's wrong with your pages quickly and effectively.
3. Analyse your page speed
Did you know that it's considered slow when a page loads for longer than 3 seconds?
A lot can be wrong with the page if it loads slowly:
Heavy JavaScript or CSS codes
Heavy media
Poor server
A large number of widgets/plugins, etc.
PageSpeed Insights by Google will help you resolve the problem by offering recommendations.
Page speed is an important ranking factor and impacts user experience and conversion.
4. Review page layout and navigation
According to Crazy Egg, a rule of thumb is that anyone should be able to find the needed information on your site within three clicks.
While it may be interesting to wander around a gorgeous website, not everyone will do it, especially if they aren't familiar with the site.
Besides, it's important to have all the key links on the first viewing screen. Basically, do everything to minimize actions for the user when they want to access some crucial information or offer.
5. Remove distractions
Unless a person comes directly to your website looking for a certain product or service, they won't be very attentive when scrolling through your pages. Therefore, you have to design your UX around your content and offer.
That's why it's important to remove distractions:
Shrink the menu.
It should be easy to find and in a recognisable location. It shouldn't be so large that it blocks the view or draws too much attention to it.
Sidebars and big headers.
Same situation. Multiple large sidebars will distract people. It's easy to shift attention there, walking off the track to conversion.
Take off irrelevant (stock) images.
Stock images may diversify your guest posts, but it's always better to use more customised media like screenshots. Nowadays, when you see a stock picture on a landing, it means that the people behind it didn't put much effort into it. At least that's what many users think.
Review content quality and length.
Sometimes the biggest distraction isn't the menu or sidebars but the content itself. If it's too long, written in one paragraph, and has no clear information, people won't stay on the page for a long time.
Optimize your pages so that they're interesting, draw attention to the right elements, and make people scroll right to the offer.
6. Run A/B tests
A/B tests are an effective and rather exciting approach to conversion rate improvement. You take two hypotheses (marketing approaches with small differences, for example) and test both to see which one performs best. Here are some things to test:
Different CTAs.
You can try a thousand calls to action. Pick various models and test them. Regular buttons like 'try this out' will work, while other audiences need a more creative approach. After all, 9 in 10 people will read your CTA if they get past the heading.
Offer placements.
Where do you choose to make an offer? Maybe it will look better at the end of the landing page? Or maybe at the very beginning? Maybe in the middle? Choose two ways and test them to see what works the best with your TA.
Add incentives/scarcity.
Which approach will work the best with different segments of your TA? Some may like benefits for providing personal contacts, and others will act faster if you create urgency for them.
Test different channels of communication.
You may know everything about your target audience in theory. But what about practice? How do you know for sure they are hanging out on Facebook instead of Instagram or, say, LinkedIn?
A great service to try for heatmaps, user behaviour, and especially A/B tests is Crazy Egg.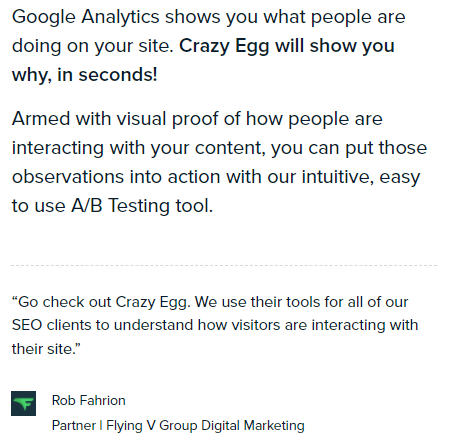 You can order a demo version for your business to try the service and see if it suits your needs.
What Next? Summary
Conversion rate improvement is nearly impossible without a detailed audit of your website. Multiple digital tools will help you record user behaviour on your website, create heatmaps, gather demographic data, analyse SEO metrics, and offer recommendations for adjustment.
Utilise the tools, work on content optimization, monitor user behaviour, analyze page speed to improve user experience, and run A/B tests regularly to avoid missing another conversion opportunity.