Go back twenty-five years, and the idea that there would be a surge in demand for digital marketing jobs would have seemed like a fantasy. The internet was barely getting started, and the notion that it would one day come to dominate all our lives would have been difficult to accept.
But over time, and especially during the last decade, the importance of the internet as a marketing platform has grown, and now it eclipses traditional media like TV and radio.
Digital Marketing, though, requires a radically updated skillset from the advertising of old.
Marketing on the internet is more technically demanding than traditional marketing, and it requires that you continually stay up to date with the latest digital marketing trends and changes that advertising platforms make. Facebook and Google (and the rest) are liable to update their policies and algorithms at any time, and clients expect digital marketers to respond.
The Digital Marketing Employment Gap
Forrester Research says that more than 35 per cent of all advertising spending is now channelled through the internet. With such vast quantities of corporate revenue funnelled through online marketing platforms, there's a demand for people who genuinely understand how the system works and how to maximise company ROI. But, as the data show, despite the need for digital marketing experts, there's a lack of supply.
Burning Glass, a career research firm, found that digital marketers earned more compared to their traditional marketing counterparts, highlighting the premium that firms are prepared to pay for people with the right skills.
What's more, the nature of what it means to be in marketing has changed. Thanks to the way search engine policies have evolved, there's a higher demand than ever before for people with the ability to write in-depth detailed articles, with the need for digital marketing content writing surging over 450 per cent – a staggering increase in just five short years.
What is so remarkable is that the digital marketing jobs gap is likely to widen further before it narrows again. Burning Glass predicts that the demand for content creators will rise by another 375 per cent over the next three to five years, underscoring the reality of the digital marketing revolution. If you want a career in marketing, it's clear that the internet is the place to hone your skills.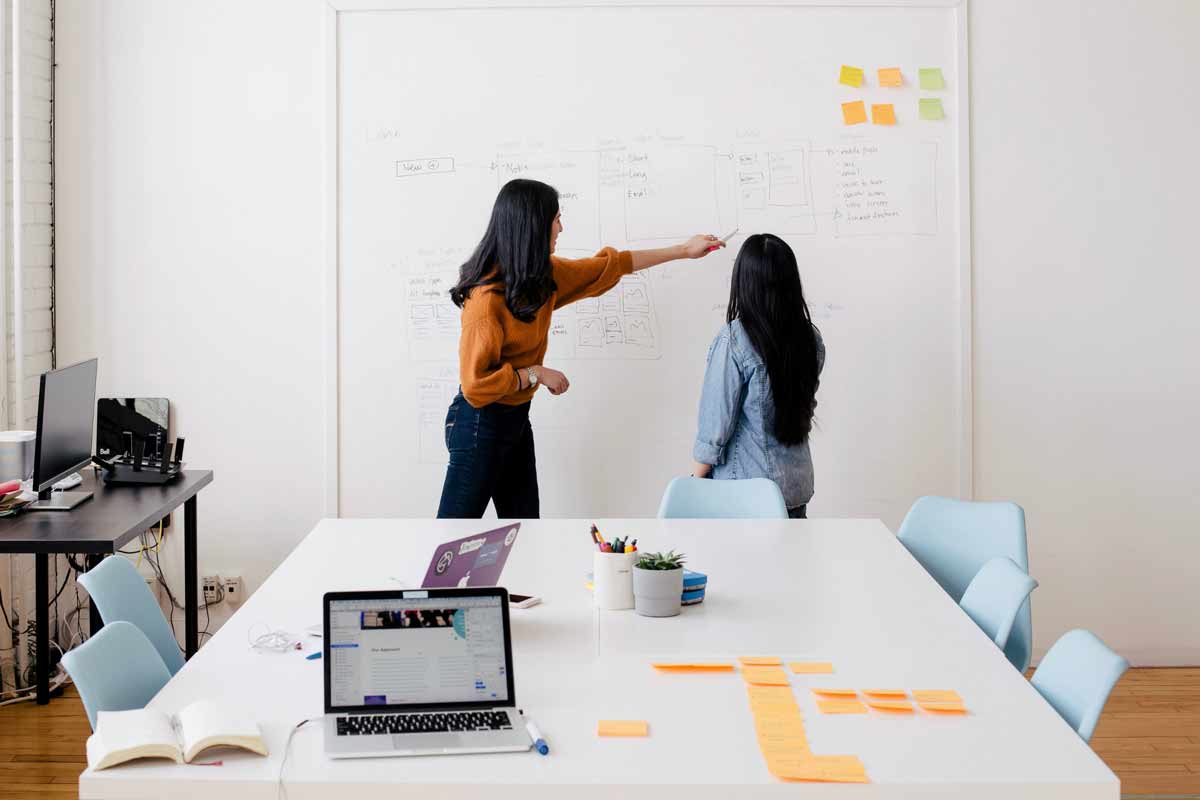 Why Choose Digital Marketing As A Career?
If you go to a university open day hoping to find out more about training in digital marketing, you may be disappointed. Few higher education institutions have yet to catch up to the profound influence that social media and search engines are having on the world of advertising. Many educational establishments still focus on the bread and butter of traditional advertising and haven't yet updated their courses to reflect the new digital reality.
Digital marketing experts, therefore, often have to carve their own path. It's incumbent on individuals to forge ahead and develop their skills in the relative absence of formal training.
While this might sound like a disadvantage, it brings a host of benefits, not least that if you can demonstrate you have the skills, landing a digital marketing job levels the playing field. Many people become digital marketing content creators, for instance, with no formal training whatsoever, yet it's entirely possible to earn the kind of salary somebody would make in a full-time managerial role in a traditional industry, like retail or hospitality.
The Pay
When it comes to working, the pay isn't everything. But if you are interested in having a lucrative career, there are all kinds of opportunities in the digital marketing space. Companies are desperate for people with proven digital marketing skills, and they are prepared to pay extra for it. For those on the ground doing digital marketing work, this is good news. You can earn significantly more than is possible through traditional marketing roles, and have ample opportunity for progression or branching out and setting up your own consultancy.
The average digital marketing manager earns $76,477 in New York. While in the UK the top ten per cent of digital marketing managers make more than £47,000 per year. An entry-level job as a digital marketing "executive" in the US is likely to land you between $32,000 to $50,000 per year.
Read more: Digital Marketing Salary Guide
The Flexibility
How much money you make is important, but it's not everything. A lot of people in sectors such as banking and legal earn impressive salaries, but it can come at a cost to quality of life. Banking professionals, for instance, are the most stressed of workers in any industry, work long hours and rarely get genuine downtime.
The world of digital marketing is different. Jobs in digital marketing tend to be more flexible, and no large firms dominate the sector. Instead, it's made up of a multiplicity of smaller firms, all competing with each other to attract the best talent and offer excellent conditions.
Many digital marketing jobs, especially freelance roles, involve working on a "per-project basis," rather than a set number of hours per week. Digital marketers, therefore, can pick and choose which projects they do and how many hours they work. If you have the right skills, you can dip into digital marketing for just a couple of hours per day, or you can go all-out and take on as many projects as you can handle. The choice is yours.
Even if a company officially employs you, they may not require you to travel to a physical office every day. Many firms hire digital marketers remotely, allowing them to work from home. So not only does digital marketing pay well, but you also avoid all of the costs associated with commuting, such as car maintenance and train fares, leaving more money in your pocket at the end of the month.
The Creativity
Finally, digital marketing is an excellent opportunity for you to build and showcase your creative skills. Companies need people with the following skills:
Infographic creation
Blog and article writing
Professional research abilities for white papers, ebooks, and tutorials
Graphic design for banner ads, websites, and social media posts
Website design, including improving UI and UX
Knowledge and understanding of search engine optimisation
Knowledge and understanding of how to implement social media marketing campaigns
All of these tasks involve creativity to a certain degree, meaning that if you are a person who loves to draw, write or come up with novel solutions, a career in digital marketing could be just what you're looking for.
What Skills Do You Need To Become A Digital Marketer?
Digital marketing might have blindsided traditional academic institutions, but companies want to see that you have core competencies that they can use to boost their outreach.
Search Engine Optimisation Skills
Search engine optimization, or SEO, seems like something of a dark art to most traditional marketing managers; they know it's important, but they don't have a deep and profound understanding of how SEO works.
If you can prove to a company that you have serious SEO skills, then you're able to offer enormous value. People with genuine, highly developed skills in boosting page ranking are few and far between and can increase a firm's online impact dramatically.
Capable SEO professionals need to have a background in things like website design and be able to use analytical tools to evaluate the performance of website pages. Successfully analysing trends and data also requires a good understanding of statistics and mathematics, so if you have a background in either of those areas, you should find it straightforward to pick up how to use modern SEO tools.
It should be pointed out, however, that SEO isn't just a technical art. The most successful people in the space are those who understand the history of the discipline, where it's come from and where it's going. In the past, you could run a successful SEO campaign by repeating keywords over and over again on the target page, but today, things are very different. And tomorrow, they'll be different again. SEO isn't exclusively about tweaking content, keywords and metatags – it's also about overall strategy and positioning. A company can have a technically-proficient approach to SEO, but if its content is a replication of information that customers can get elsewhere on the internet, then it won't do so well.
Writing Skills
It's a sad reality that many people grow up writing scholarly essays designed to appeal to specialist academics and teachers, rather than more general audiences. Few people can write effectively, and even fewer are trained to appeal to the public. But, as a digital marketer, that's precisely what you need to be able to do.
Digital marketers deploy their writing skills in the following contexts:
Content creation for third-party websites. Many companies need people who can create compelling content for their website to attract visitors, provide value, and boost their ranking on popular search engines.
Content creation for company websites. Other companies hire people directly to create content for their blogs. These content creators often need to do more in-depth research in combination with creating compelling content that customers actually want to read.
Email marketing creation. Skilled writers can create concise email marketing messages that convert.
Content editing. Editors are people with fluent writing skills who can edit the work of others and tailor it to a particular audience.
Social media communication. Finally, digital marketers should be able to create compelling content for social media, even if it's just a few words or sentences long.
Creative Skills
A large chunk of current digital marketing content is in the form of "rich media" – essentially anything that isn't a block of text. Rich media includes things like photographs, infographics, podcasts, interactive images, and video. Firms, therefore, need people who can use programs like Photoshop, Adobe Premiere Pro CC, Final Cut Pro X, Pinnacle Studio 22, and Corel Video Studio Ultimate.
Writing is still critical, but it's clear that the world of digital marketing is going in the rich media direction. Research shows that video is a more effective advertising tool than text because it is easier to consume and can deliver highly memorable messages to consumers.
Analytical Skills
Conducting an effective pay-per-click campaign is not easy. The competition is fierce, and it's not always clear which keywords a firm should target. To make matters worse, PPC tools such as Google Ads, have a steep learning curve.
Companies need digital marketing professionals who can navigate these tricky tools and use them to great effect. Digital marketers, therefore, need to understand which bidding methods to use, how keywords work, how to search for the right keywords, how to use negative keywords, and how to organise many campaigns simultaneously.
Communication Skills
Digital marketers do essential work for organisations, but because of the technical and counter-intuitive nature of the job, other team members may find it difficult to understand why digital marketer do what they do. It's the job of the digital marketer, therefore, to make a case for digital marketing, and help the people around them understand why they need to do what they do.
Highly effective digital marketers impact company strategy by communicating with the C-suite about how their approach to customer outreach needs to change in the context of what's happening in the online marketing space. It's a communication challenge, but one that's vital if companies are to derive maximum value from the marketers they employ.
Do You Want A Career In Digital Marketing?
If you have the skills to become a digital marketer, then it could be just the career that you're looking for. You can either get work through digital marketing agencies, be an independent digital marketing freelancer, or work in a firm full-time.
Digital marketing is a growth industry, and there are plenty of job opportunities in the sector: if things don't work out on one particular career path, you can quickly switch over to another.