Do you want to drive serious audience engagement without breaking the bank?
Social media marketing provides an excellent platform to help you achieve this.
With the right strategies and reliable tools, you can achieve successful social media marketing even with limited resources and a shoe-string budget.
While there is no one-size-fits-all formula to engage your audience effectively, a reliable social media marketing cheat sheet for startups can make this easier.
Learn from the five tips below to help you run social media marketing campaigns like a boss, increase your engagement rate, and ultimately grow your conversions and sales.
1. Ensure constant audience interaction
Maintaining a solid social media presence is critical to engage your audiences and drive meaningful results.
After all, if you don't constantly interact with your audience and post engaging content regularly, they're bound to lose interest or forget about your brand.
Plus, social media is overflowing with other brands that can draw your audiences' attention away from your content, promotions, and other offers.
You'll miss out on tons of opportunities to drive engagement, hindering your efforts to achieve your social media marketing goals.
The key is to interact with your audiences regularly with these quick tips.
Post questions inviting audiences to share their opinions, experiences, or preferences.
For instance, you can ask your followers thought-provoking, relevant, timely, and even entertaining questions to jumpstart conversations with them.
Run polls to entice people into participating, allowing you to interact with your audience while learning more about them. Ask them to weigh in on popular topics, such as whether getting the Wordle of the day within five seconds makes you a genius.
The catch is that constant social media audience interaction can take a lot of time and effort—from planning and creating to publishing your content.
Streamline the process with reliable in-platform apps, Instagram, TikTok marketing tools, and other solutions.
For instance, Vista Social lets you plan, organize, and schedule your content to auto-publish across your social media channels easily.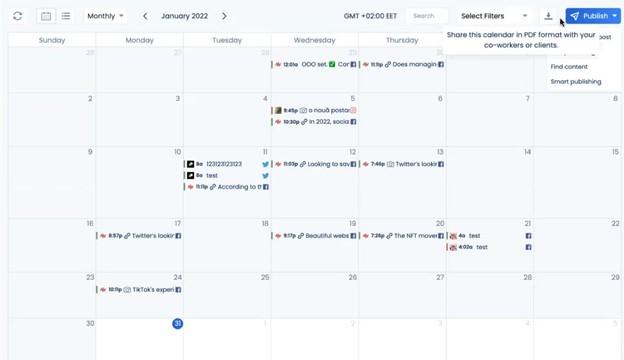 The Social Media Marketing (SMM) platform can also help you assess and analyze your content's performance via social analytics and reporting features.
Set up the report to auto-generate on a schedule to save time and effort while getting valuable data and insights to improve your SMM content and campaigns.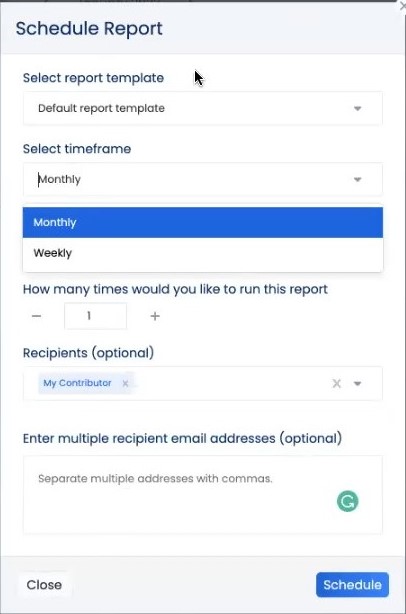 Use a modern SMM platform with sophisticated tools to ensure seamless content creation and publishing. It can help keep your content flowing for maximum exposure and audience engagement.
2. Post valuable content
Any social media content you post daily can help you engage your audiences, right?
Well, not quite.
You need to create high-quality content—images, videos, and other creatives that don't look sloppy, blurry, or downright low-quality to engage your followers effectively.
Establish a content development process to plan your content while giving enough time to put together stunning and compelling social media creatives.
Below are several elements to consider to create high-quality social media content.
Call-to-Action (CTA). Include compelling CTAs in your posts to lead your audience to the next step. Ask questions to encourage followers to comment or share links and help them learn more, subscribe, or buy your products.
Captions. Write captions describing your visual or post and include catchy statements, headlines, questions, or fun pop-culture references. It can help you draw interest in your content while encouraging shares, likes, and comments.
Take inspiration from this Instagram post caption from Hello Tushy.

Mentions. Mention other users to help widen your reach and increase your visibility while nurturing mutually beneficial relationships with other brands and influencers.
3. Encourage UGC
There is no shortage of creative, interesting, and compelling content that social media users create. Leverage this for your social media marketing and audience engagement efforts.
Encourage your audience to share User-Generated Content with these tips.
Use relevant hashtags. Hashtags can be your ticket to connect like-minded people and make your social media content, promotions, and offers searchable.
A classic example is how Trivago, a metasearch engine for comparing travel and accommodation prices, asks Instagram users to share photos or videos of their #LocalLove travels.

Showcase your partners, employees, and customers. Sharing content featuring real people your business works with is a great way to make your brand more human and relatable.
It can help you nurture trust with your audience, inspiring them to share UGC featuring your brand, event, content, etc.
Employing the right strategies allows you to get loads of UGC from your followers and ultimately drive engagement.
Leverage widely-used task management software to plan, organize, and manage your UGC strategy and content for seamless implementation.
4. Run contests and giveaways
People love getting free stuff, which makes running contests and giveaways one of the best social media marketing tactics to get you almost instant engagement.
Plus, hosting giveaways and contests lets you hit two (or more) birds with one stone since you can use it to spread brand awareness while attracting potential leads for your business.
Run contests and giveaways that drive engagement with these quick tips.
Mention the terms and conditions for your contest or giveaway clearly to avoid confusion about how your followers can participate.
Choose a prize or gift that your audiences would find valuable or irresistible that they can't help but join your contest.
You can also use nifty digital marketing software, such as easy-to-use graphic design tools, to create compelling visuals to entice audiences to join your contest.
Set the giveaway deadline not too far from your announcement date to help you create a sense of urgency. It also lets you evoke the Fear of Missing Out (FOMO) from your audiences, compelling them into action.
Maintain transparency by announcing the winners publicly. Doing so can also motivate your audience to join your next contest for the chance to win exciting prizes.
Besides running contests and giveaways, another strategic way to boost engagement could be buying legitimate Instagram accounts from websites like Social Tradia.
This way, you can easily acquire Instagram accounts that already have a massive following and excellent engagement rates.
5. Capitalize on trending topics
Get your brand noticed on social media platforms by leveraging trending topics on Facebook, Instagram, Twitter, and other channels.
For instance, if you see a rising interest in video editing to create content for Instagram Reels or TikTok, you can share top tips on how to speed up videos with an iPhone, for example.
You can also get ahead on seasonal topics or events such as Halloween or Valentine's day.
Join conversations about topics surrounding your brand, industry, and niche, or simply talk to your followers about popular trends.
It's an excellent way to interact and connect with your audiences better, supporting your engagement and overall social media marketing efforts.
Level up your social media engagement
Know some of the best and most effective ways to engage your audiences with reliable social media marketing tips.
Your engagement rate might not skyrocket overnight, but adopting the best-fitting strategies and tools can increase your chances of driving engagement and ultimately achieving social media marketing success.