When building a brand presence on the internet, focusing on search engine optimization is a must. SEO accounts for almost all of the organic reach a brand can gain through its website, marketing campaigns, and content resources.
SEO is at the center of every brand's organic marketing strategy, and over half of all website traffic comes from organic search. The reason why over 70% of marketers prefer SEO over other channels like PPC is that organic efforts lead to higher traffic along with better brand visibility and credibility in the long run.
This blog post outlines some of the most effective ways to improve your website in accordance with the 2022 SEO trends.
#1 Focus on Web Vitals
Google recently released three must-haves for all websites, called Core Web Vitals. These metrics optimize your site for organic reach and help the algorithm measure user experience on your website. The Core Web Vitals that help determine UX are Loading, Interactivity, and Visual Stability.
Put simply, your website pages should not just load fast but also become interactive quickly and remain stable while loading.
A slow, laggy, and glitchy website has no shot at success, thanks to this user-centric model of gauging UX and measuring site relevancy with respect to user queries.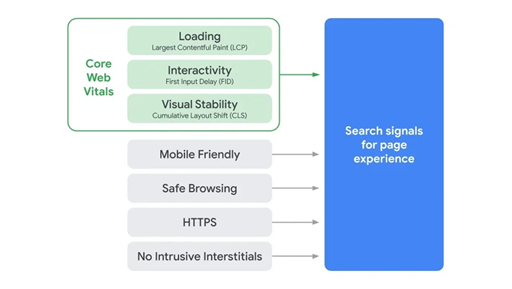 #2 Optimize for BERT
Google's Bidirectional Encoder Representations from Transformers aka BERT algorithm, introduced in 2019, is a revolutionary search algorithm owing to two things.
One, it works for queries in over 70 languages and is a success for every query in English. Two, recent updates have made BERT bots much, much smarter. BERT bots are now "conversational", which means that they can answer search queries better, owing to the "human touch" they possess.
So the most important factor here is search intent, or what the user wishes to know while entering a query. If the answer to that query does not match with the user's intent, BERT will simply skip that website, and move on to the next.
Optimizing content for a valuable UX is your best bet (or should we say BERT?) at organic success.
Pro Tip: Create content for people, not algorithms. Creating user-friendly, genuinely valuable content is a win-win, both for you and the algorithm.
#3 Work on Your Business Blog
A recent HubSpot study found that at least 60% of people read a blog at least once a week.
When it comes to marketing, over 55% of marketers use blogging as their top inbound strategy.  Blogging can account for a large chunk of your inbound leads, owing to the rising demand for valuable, relevant content. A blog is a must for any website, no matter the niche.
Conducting adequate keyword research is an important step to ensure blog success, and regularly updating your blog with useful and well-researched content such as how-to guides, Q&As, etc. can drive more traffic to your website.
Content optimization should not be limited to your blogs but is an important step for your website copy too. Publishing and updating keyword-specific meta descriptions, meta tags, headings, and subheadings improve site relevancy for search algorithms.
Closely studying website performance using web analytics tools (such as Google Analytics) can provide you valuable insights on which keywords work best for your website and which should be worked upon.
#4 Target Passage-Indexing
When you enter a query such as "what does a horse eat", the first search result that pops up is a snippet like the one below.

Writing long-form content for traffic does not have to limit itself to long-term results. Passage-indexing can be a great way to use your long-form content for highly specific queries.
According to Cathy Edwards of Google, passage indexing will account for over 10% of all search queries in all languages by the end of 2020.
Search trends and bot behavior in 2022 are going to be impacted by relevancy, search intent, as well as finding the most correct answer to the user's query from search results across the web.
Here's how you can optimize your site for passage-indexing for the coming year.
1.   Structure your content
The clearer your content is divided into appropriate headings and subheadings, the easier to crawl and index it would be. The algorithm can better understand your content and match it with search intent, leading to better odds at passage-indexing.
2.   Focus on the right keywords
Simply dividing your content into subheadings won't do the trick. When a user enters a query, BERT bots crawl through thousands of relevant websites to look for content that ties in with the keywords and search intent of the query.
The query "What should my horse not eat" will likely match better with an article named "10 Things You Should Never Feed Your Horse", instead of a post that's titled "Top Foods for Equines". Researching the right keywords and optimizing content accordingly is your best shot at passage-indexing.
#5 Create Video Content
As is no surprise here, video content has become increasingly popular with users on the web. Here are a couple of statistics that support the fact:
Video results are 50x more likely to be organically ranked in Google than text-based results.
Video search results have a 41% higher click-through rate (CTR) than text-based results.
So, integrating video content on your website is a good way to drive more traffic and improve engagement.
However, most websites that work on creating great video content forget to optimize it before publishing it on their website. The result? Slow and hard-to-load websites. This negatively impacts UX and thus, rankings.
So to sum up, creating video content that is engaging, bite-sized, relevant, and quick to load on all network speeds and devices is sure to give your website a solid boost in the coming year.
#6 Add Voice Search Accessibility
2022 will be the year of people-friendly, accessible web trends. Voice search has risen to new heights after the COVID-19 pandemic, with more and more people using voice-based tools to conduct web searches.
Siri, Cortana, and Alexa are a few examples of AI-powered tools that work with voice search. Optimizing your website for voice search accessibility is the need of the hour, moving forward into 2022. Here's how you can make your website accessible through voice search –
1.   Work on answering questions, not queries.
A voice-search user is more likely to search "where can I find hairdressers near me?" instead of typing out "hairdressers". Making your content question-specific with long-tail keywords can drive more voice search traffic to your website.
2.   Don't overstuff your content
Keyword and content stuffing will push your site further back in search rankings. Instead, focus on using keywords that are relevant and asked for, instead of stuffing related keywords to "improve" relevance.
3.   Make your content snippet-friendly
When a user searches for content using voice search, bots look for bits of relevant content they can send back in the form of conversational query results. Clear, concise website copy and writing can help you score points with this.
4.   Write for your users, not the algorithm
As mentioned above, your website should answer users' queries, instead of trying every trick in the book to score with the algorithm. Voice-search accessibility focuses on conversational, relevant content, and writing keeping your users in mind is the best way to leverage the potential potential of voice search.
Wrapping up
2022 holds tremendous potential for businesses with a strong website and online presence. With the right user experience and content optimization for performance, passage indexing, and voice search, the coming year can bring you better traffic, engagement, and organic search visibility.