If you don't use Instagram to promote and market your business, you're waaaaay behind on your social media marketing game.
It's time to step up.
After all, over 200 million businesses market their products on Instagram—and if you're not one of these, you'll lose out to your competitors.
You'll also miss countless opportunities to widen your reach, raise brand awareness, and build a community of loyal followers and customers (among others).
Use the right strategies and reliable tools to turn Instagram into a goldmine of engaged and ready-to-buy customers.
Start with the five time-tested tips below to help leverage Instagram for your business and support your social media marketing efforts.
1. Create content pillars
Creating Instagram marketing content can be tedious and laborious.
You'll need to constantly churn out fresh, captivating, trending, and relevant content to engage your audience effectively.
Your content should also have a clear value proposition, or users can easily skip through or even ignore your posts.
This is where content pillars come in handy.
Content pillars are three to five main topics your brand can discuss, amplify, and create content consistently for your Instagram and social media marketing.
Content pillars can give you a clear picture of your niche or industry while making your content planning easier.
Instead of racking your brains for content ideas or scrambling to produce last-minute posts, using content pillars allows you to build your content calendar strategically.
Choose reliable content distribution software with social media content calendars to help you plan and organize your content pillars and posts.
You can also use customizable content calendar templates, such as the one below from ManyChat.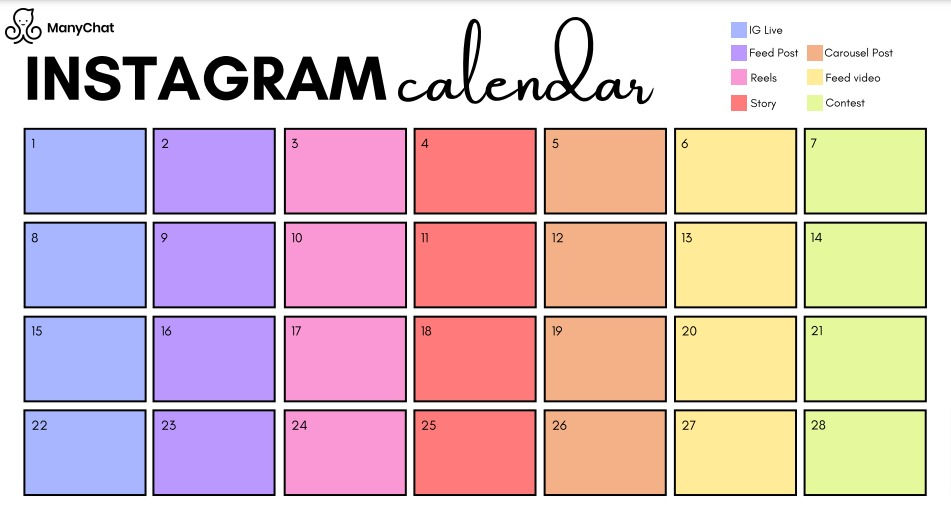 Also, consistent content pillars can help Instagram's algorithm categorize your niche accurately. Your brand can be more visible and discoverable to your ideal audiences.
2. Know your optimal posting times
You can't just post on Instagram and hope your target audiences see it when they're ready to scroll through their feeds.
Instead of posting content randomly or when it's convenient for you and your team, find an optimal time to publish your IG marketing posts.
Optimal posting times are when your followers are most active and receptive to your content and offers on Instagram.
Use tools with features that help determine the best times and dates your posts can reach the right people at the perfect time.
For instance, some modern social media management platforms can calculate your top posting times based on your historical audience engagement activity and stats.
Include your optimal posting times when developing your content tracking approach.
It can help you track and examine whether your best IG content posting times help give your expected results, such as gaining higher engagement.
3. Share Reels
Videos are always great for Instagram marketing and promotions because they can be more engaging and fun to consume than static images.
A popular format to share IG videos is Reels.
Use Instagram Reels to reach new audiences, build stronger communities, make sales, and even entertain your audiences to boost engagement.
You can share content such as how-to, before and after, behind the scenes, and other short-form Reels to support your marketing initiatives.
You don't need to be a professional graphic artist or hire a whole team to create captivating Reels.
Start simple, such as adding text overlays and trendy background music to your IG Reels, the way MINT JEWELRY CO does with the Reel below.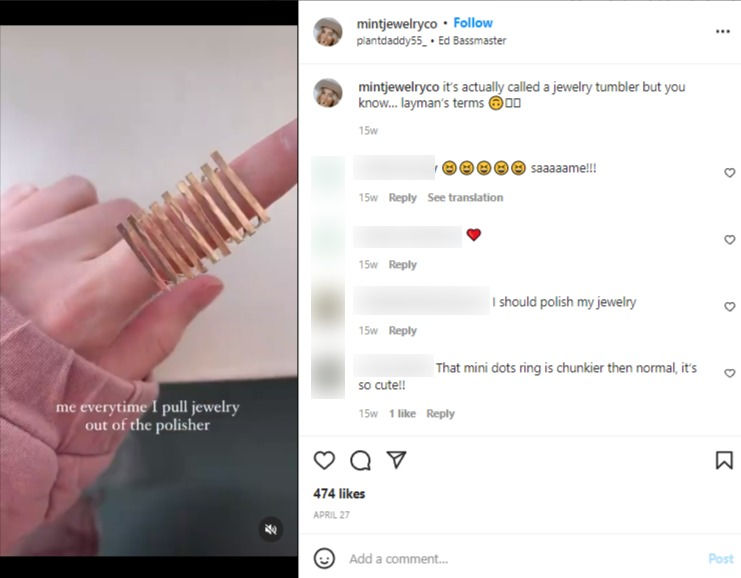 4. Repost content from your community
Regularly filling your Instagram feed with original, compelling content is challenging, especially with a small budget and team.
Fortunately, you don't always have to create content from scratch.
Tap into your community of followers who share unique and creative content related to your brand, products, or services.
Share User-Generated Content (UGC) that showcases real-life uses of your products with actual customers.
For instance, if you provide team apps, such as user-friendly process workflow software, share videos of customers using your product on your feed (with permission and proper attribution).
UGCs can serve as customer testimonials while filling your feed with original and creative content.
One way of gathering UGCs is to create branded hashtags. These can encourage IG users to share content related to your business and include the hashtag in their posts.
You can search your branded hashtag on Instagram, and BOOM! You'll see a bunch of UGCs with your hashtags.
It's the definition of easy pickings.
The strategy works for clothing brand Pull&Bear with its #Pullandbearcommunity hashtag on IG.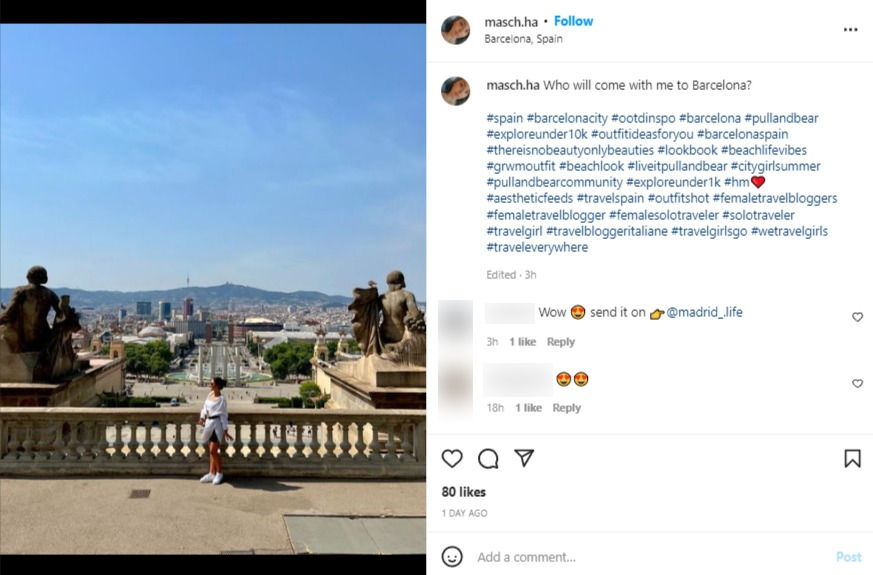 5. Post shareable visual content
Instagram users aren't big on hard-selling or aggressive marketing.
If you want to succeed and not turn off potential customers, focus on connecting with them better and boosting your engagement.
What's one way of fostering genuine connections with your Instagram audience?
Creating content your followers can't help but share, usually relatable and funny memes, beautiful images, compelling videos, and other visual content types.
Some people even have full conversations on Instagram and other social media platforms by sharing memes.
Get on this trend and post content your potential customers can easily relate to and share.
It's a great way to connect with your audience, expand your reach, and increase brand awareness across more Instagram users. It can also help drive traffic to your website.
Website audit and reporting platform SEOptimer is a master at posting relatable and shareable memes on its Instagram feed.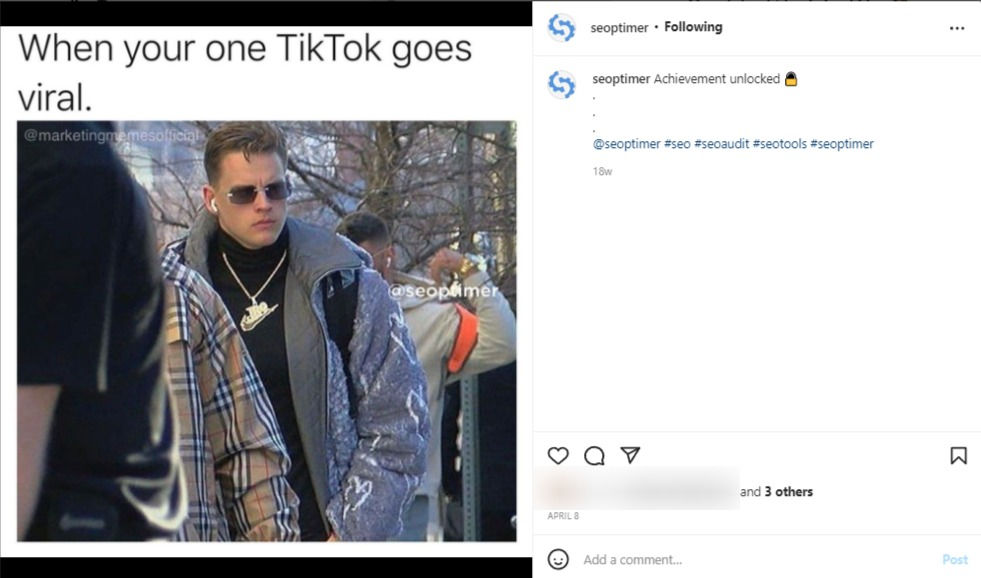 Whether you offer retail or B2B products you need content, from SEO optimized articles, to memes and other visual content, these can help you start a long and lasting relationship with your IG audience.
Amplify your social media marketing with Instagram
Achieving Instagram marketing success doesn't happen overnight, but the right tools and strategies can get you there in no time.
Establish a solid presence and nail your Instagram marketing with the reliable tips in this guide.
Build on the existing effective tactics and refine your efforts to promote your brand on Instagram and meet your social media marketing goals.