If you've landed a face-to-face interview then you're past the first hurdle towards getting the job. Your prospective employer was impressed by your Resume so you can walk into this interview with a sense of confidence.
But what is the best way to prepare in order to set yourself apart from the competition at the interview stage? Your Resume goes a long way, but next you need to make an impression with your face-to-face communication skills and your personality.
With a wealth of experience on both sides of the interview process, let us share some insight into how you can boost your chances of success.
What is a face-to-face interview?
Some people call them 'F2F interviews' or simply 'face-to-face' – whatever you call them, they are usually the final stage of a job application process.
In many cases, they come after a successful telephone interview. When you arrive at a face-to-face interview, you may meet the Hiring Manager, MD, CEO or the individual who would be your Line Manager if you get the job. Often, face-to-face interviews are conducted by more than one person – it may be the Hiring Manager plus the team leader, for example.
Some interviews require you to prepare a presentation to demonstrate what you can bring to the role, though this is not always required. Most F2F interviews mean running through your Resume, having a discussion about your key skills and experience and giving you the opportunity to talk about your interest in the role.
If you've made it to the face-to-face interview, you are within touching distance of being hired. Here are some tops tips for a successful face-to-face interview.
Top tips for interviews
Do your research
This may sound like an obvious step, but you'd be surprised how often people neglect to do it properly when preparing for an interview. Be sure to read through the company's website and take note of a few pieces of information that could be brought up in conversation. Think:
Case studies you particularly liked
A blog post that struck a chord with you
By taking this step, you show that you are proactive and give the impression that you are genuinely interested in what the company does, rather than simply trying to land a new job. It can also be helpful to research the employer, so have a look for them on LinkedIn and learn a little about them
Whilst preparing for the interview, be sure to read the job description several times. Get an understanding of what's required of you and be sure to mention these things in your answers as much as possible. Preparation really is one of the fundamental interview tips for success – learn some common interview questions and prepare some answers to help yourself.
Apply your face-to-face communication skills
Your performance at the face-to-face interview will be the deciding factor for whether the employer thinks you are right for the job and a good fit for their company. However, it is also an opportunity for you to decide whether you think you would enjoy working there.
Speaking with someone face to face is the ideal time to showcase your communication skills. Employers will be interested in what you have to say, but also how well you answer questions and the way you communicate with them.
With this in mind, one of the top tips is to be sure you speak clearly and avoid going off on tangents about irrelevant things. You want to convey the following things:
Enthusiasm
An upbeat, positive outlook
A genuine interest in the role
If you want to know the secrets to success in an interview, it begins with how well you communicate. This is your chance to demonstrate your skills and experience, so do yourself justice by showing off your best communication skills.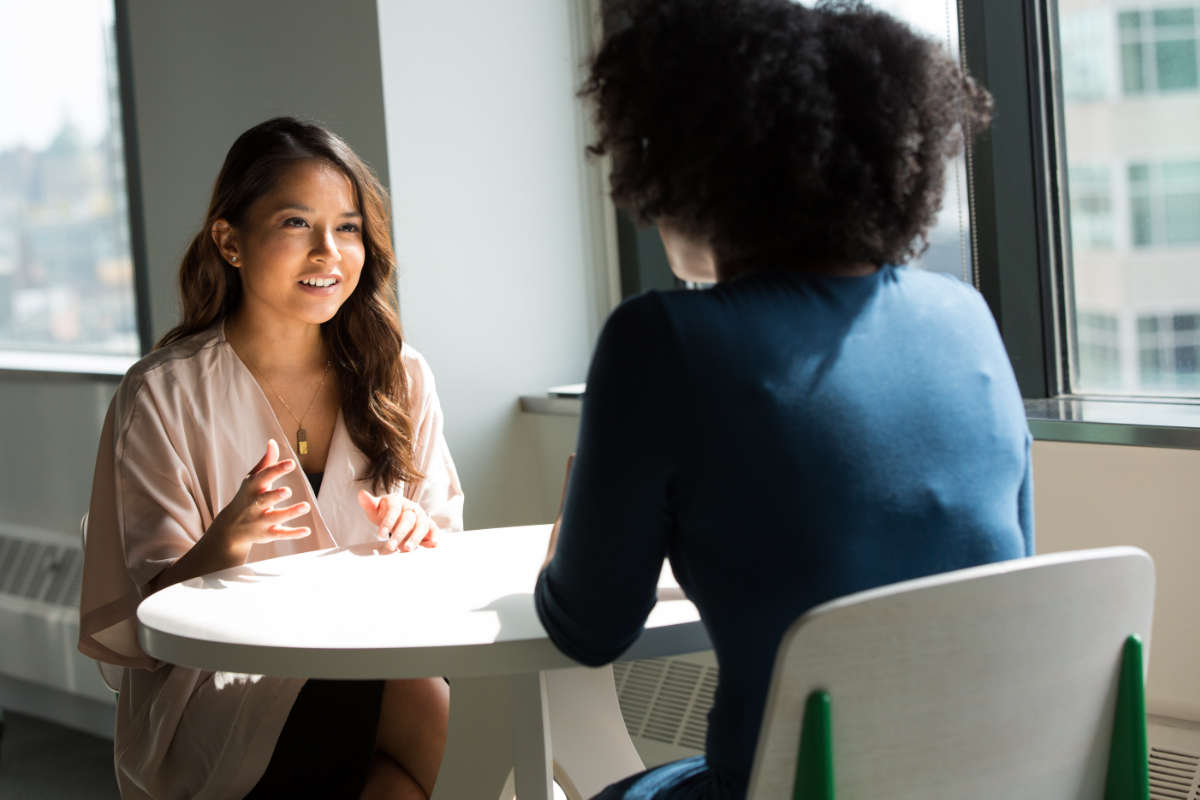 Dress to impress
Unless the interviewer has specifically stated that casual dress is acceptable for the interview, you should be sure to dress smartly and appear presentable. It is better to be overdressed than underdressed, and you want to make the best possible first impression with your potential employer.
If you turn up looking sloppy, it gives the impression that you are not prepared to make the effort and immediately gives the wrong first impression. You don't have to spend a lot of money; just get an outfit that looks clean, smart and professional. You only need to get one outfit to wear to as many job interviews as you like.
The power of a first impression is never to be underestimated, so don't ignore this top tip for interviews.
Use real examples when answering interview questions
It is almost certain that the interview questions will involve something regarding situation-based competency. For example, you may be asked to talk about a time you had to deal with a stressful situation.
Questions like this are an opportunity for you to shine, demonstrating your ability to do the job. Real-world experience and skills gained from previous jobs, education and life in general are a gold mine for showcasing your strengths.
Be sure to prepare some examples to give as answers to these sorts of interview questions. Think of some specific experiences you could talk about that demonstrate your skills. For example, if you used to work in a restaurant, you could talk about having to deal with high-stress, busy times and the things you did to keep your customers satisfied even when you felt the pressure.
You must never answer with 'pass' or 'I don't know'. Take the time to prepare yourself for this type of interview question so that you can face the interview head-on and impress your potential employer.
Ask the employer some questions
When you reach the end of the job interview, the employer will always as if you have any questions you'd like to ask. You should always answer 'yes' to this, and have a minimum of three questions prepared. A few examples to have ready include:
What are the next steps?
Could you tell me a bit about the company culture?
What do you like most and least about your job?
As a rule, never ask questions like:
What does your company do?
Can I wear what I want to work?
How long will it take to be promoted?
The top tip here for interview success is to show, in the face-to-face interview, that you are interested and engaged. Asking the employer some questions is a powerful way to do this.
Be yourself
The final top tip for your interview is to be yourself. You've got to this stage because the employer likes you and your experience, so it is crucial to be yourself when you meet them.
This could also be the only time you meet people in the company before you start the job. You'll want them to take a shine to the authentic version of you. If you present a fake, interview-only version, it may be difficult to keep that up once you start the job.
Another advantage of this is that if you don't gel during the interview, you'll know that the job is not right for you anyway. There are plenty of other jobs to pursue, so don't be disheartened if you find you don't fit in with the people at this one. Heading into the interview with this in mind should help you feel reassured that you don't need to be someone you're not. This is perhaps the most important tip of all for your job interview.
Checklist for preparing for your face-to-face interview
If you have reached the face-to-face interview stage, you will want to ensure that you get all the preparation done before attending. Make use of this interview preparation checklist as well as the above tips for a successful interview:
Make sure you know what type of interview you are having – face-to-face interviews take many shapes and forms. It will usually be a conversation about your Resume, but you may also be asked to give a presentation or carry out an interview with a panel. Be sure to learn how to approach different types of interviews to make the right impression.
Prepare your answers to common questions – take the time to look through the types of interviews questions. Also, prepare some questions to ask the employers at the interview.
Learn your Resume inside and out – it may seem obvious, but you need to know everything that is on your Resume so that you can talk in detail about your skills and experience. For each thing that is written on your Resume, be sure that you can go into greater detail about it when asked at the interview.
Have your outfit ready – prepare your interview outfit ahead of time to avoid unnecessary stress on the day. The way you dress will be dictated by the type of interview you are attending – again, do your research and dress for success.
Plan your journey – another completely unnecessary stress to add to your interview day is to worry about being late. Plan your commute to the interview ahead of time – don't forget to take rush hour into account if necessary.
The bottom line
Face-to-face interviews don't need to be a hugely stressful experience. Keep in mind that the employer wants to impress you just as much as you want to impress them. Approach the interview with confidence and remember the tips in this article. This will stand you in good stead for a successful interview.
Last but not least, best of luck!