Predictions, estimates and educated guesses from the digital marketing recruitment professionals about those digital marketing trends, focus areas and priorities that will make the biggest difference to your campaigns and marketing activities in the months ahead.
The world of digital marketing moves at lightning speeds, impacted by consumer trends, technological innovation, the complex ecosystem of social media, and countless other factors that can make agility the most important skill in the marketer's toolbox.
While there are, admittedly, always unknowns, it's also vital that digital marketing professionals keep their finger firmly on the pulse and monitor the trends and exciting new releases that are most likely to affect the way their target buyers or audiences, both B2B and B2C, will react.
The trick, of course, is latching onto a trend before it's already peaked or having a secret recipe up your sleeve that will add a dash of spice to a high-profile new campaign.
In this guide, the experts at Digital Marketing Jobs Board have put their heads together to predict those digital marketing trends that will be making the biggest waves in the months ahead and help you focus your expertise on the most viable new opportunities.
Digital Marketing Trends vs. Tried and Tested Techniques
We'll pause quickly before we get into it because there is a caveat in that some approaches are proven to work, and it's never a great idea to abandon everything you know about lead gen, consumer confidence, brand awareness, and positive exposure – new digital marketing trends supplement your existing marketing strategies, rather than replacing them.
By embedding exciting new ventures or mediums into a data-driven marketing plan and content schedule, you can add something fresh, and ultra-engaging to your marketing, blending technical, experiential, and professional know-how with an open mind to trying new things.
It's also essential to reiterate that some emerging digital marketing trends spark a flurry of activity and enthusiasm before dying out. Be cautious not to throw away anything that you know works well within your industry or sector but keep an eye out for those enhancements and upgrades that can have a tremendous influence on your metrics.
Trend 1: Artificial Intelligence Everywhere
Like it, loathe it, or feel indifferent, there's no escaping that AI is infiltrating every part of our lives, from super-smart fridges that tell us when our food is about to go past its best to automated robot vacuums and the elephant in every content creator's office; ChatGPT.
The reality is that AI has buckets of positive potential, and it's relatively new and untested in real-world marketing, but attitudes towards it swing wildly from one side to the next.
From an impartial perspective, AI has a huge amount of power and, if used wisely, could be a fantastic way to augment the way you work, making things quicker, easier, cheaper, and better – but only if you add the human touch to ensure you're not reliant on machine learning to communicate with your audiences.
Some of the biggest players in the mainstream AI world now include:
DALL-E; an AI tool that can create amazing imagery from a simple text prompt. Using a little inspiration, you can design unique pieces of art or graphics to accompany ads or promotions – but it'll need tweaking if your first result isn't quite what you expected. However, if you're reliant on stock images your customers have seen a thousand times before; it's a bit of a win-win.
The aforementioned Chat-GPT is the topic of much debate around fake uni tests and digitalized blog content – and also a decent tool to have in your digital marketing back pocket. Now, the argument is that Chat-GPT doesn't fact check, often assumes random info on the internet is gospel, and can be identified by algorithms as one of their own. Used carefully, though, it can give you the ability to produce fairly good content in seconds, provided you edit, proofread, and re-do it as much as necessary to meet good information architecture and content creation standards.
Some of the best ways to adopt these tools are as a research asset because they can scour the internet, find references and respond to your questions faster than we could run one Google search, which can be invaluable.
Let's say you're brainstorming for a new campaign and are drawing a blank. Use these sites to gain input, information, and a hint at some of the highest volume keywords associated with your promotion topic, and you've got at least the bare bones of a great research package.
It's also possible to use AI content and image creators for very short-form digital marketing activities, such as a quick social media post, which can ease the pressure on your workflow with little effort on your part.
Trend 2: Let's Get (Hyper) Personal
Personalization is nothing new, but customer expectations continue to rise. Even the most attention-grabbing, inspiring ad will likely gain less traction than something cleverly curated for your specific audience or visitor.
Lunio estimates one person sees between 6,000 and 10,000 online ads daily, so personalization is key if you want to be the needle in the haystack that stands out.
Here are some of the ways we personalize – and while they're still not innovative concepts, they're also aspects you cannot ignore if you want success:
Addressing problems: no matter how incredible the product or service, marketing will only work if there is a viable impetus to buy it. Budgets are stretched, costs of living are high, and you must prove to your reader why your offering will make their life easier, better, more fun – or something equally as appealing.
Originality: the sheer volume of content online and throughout social media means that lengthy, cliched sales letters simply aren't current. Generic ads, seen-it-before taglines, and overuse of adjectives won't make a savvy customer jump for the checkout.
Social listening: brands that pour effort into engaging with their audience, with zero sales pitches, are right on the mark. They don't try to sell; they try to understand what their customer wants, how they live, work and shop, their real-world problems, and how they can meet them on their own terms with something that works.
A viral ad is a gold standard, but you don't necessarily have to shoot for the moon to improve your bottom line; positioning yourself as a brand authority has often been a little overlooked in favor of click-through rates and PPC, but a business that is a familiar face, and one people trust, is in a great place to grow.
Trend 3: Influence Without an Influencer
The wave of ice-white smiles, perfectly curled hair, and upbeat influencer ads have become jaded, and a large proportion of customers are cynical about the authenticity of any product they see marketed by an influencer.
The Conveyance Marketing Group quantifies this influencer fatigue, reporting that 47% of social media users in 2018 (already five years ago!) found social media influencer ads repetitive.
However, the term has become a catch-all, and there are still plenty of ways to use the influencer marketing phenomenon to achieve great things.
Today's consumers understand how influencers work and that they're paid to promote a product – which doesn't mean they actually use it, or it's their magic way to achieve six-pack abs / ten hours of sleep a night / a $1 million turnover in three months (*delete as appropriate).
The key here, as with personalization, is to establish trust. Influencers work when they are respected authorities; think researchers, medical professionals, parents, teachers, and others in their communities who can advocate for a product with genuine experience.
Big-name influencers are still in high demand, but predictions for the market indicate that the glossy sheen of marketing is starting to dull.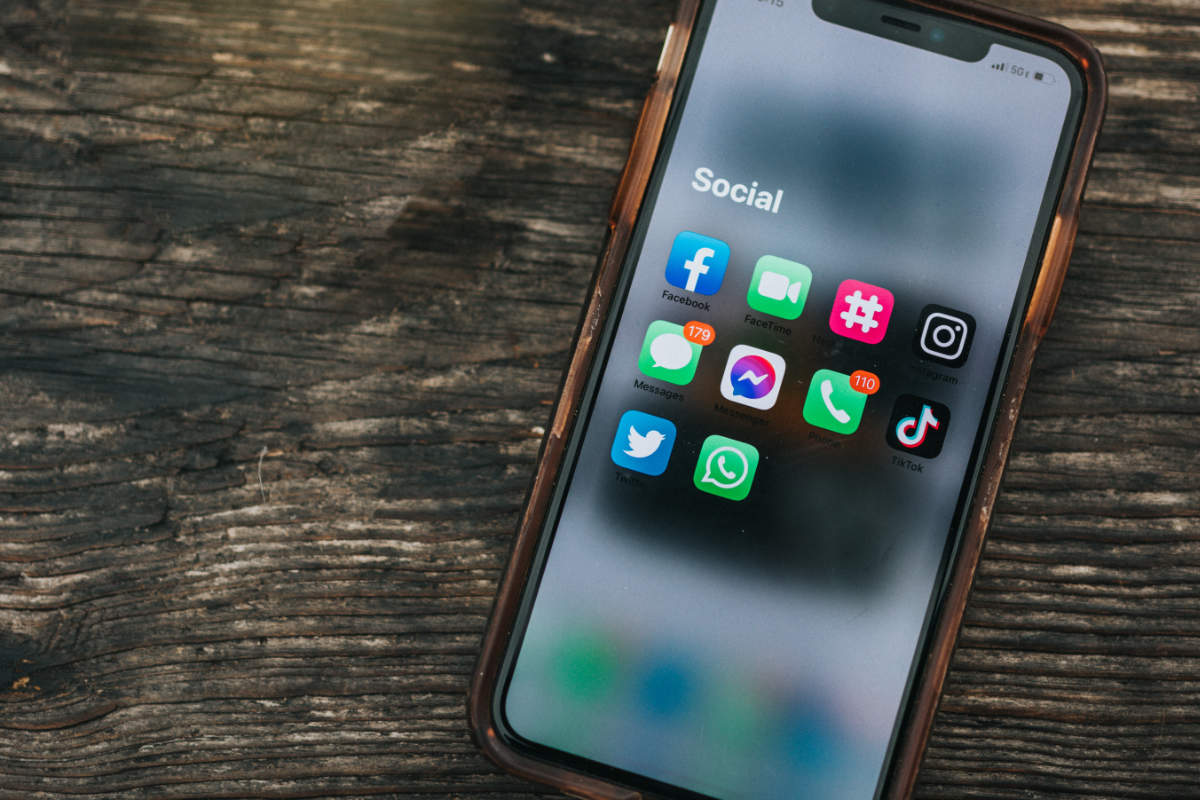 Trend 4: Social Media Diversity
There are now more social media platforms than ever, and with tools such as WhatsApp becoming part of the landscape, it's not enough to post a few big-budget ads on Facebook and watch the sales stream in.
While Facebook is very much still the largest platform out there (see our Top 10 Social Media Sites & Platforms report for the stats!), marketers need to make conscious choices about the types of promotion or engagement they focus on and, crucially, where.
However, looking at the platforms with the greatest active users in your target demographic still isn't sufficient because:
Cross-usage means that many platforms popular with a specific age group are in dual usage, so funneling 100% of your marketing budget to two places probably means you're showing the same content to the same people.
The style and format of social media ads must be tailored to the platform; a tweet won't work on TikTok, and vice versa.
New social media sites ebb and flow with little warning, and keeping an eye out for newcomers can be an excellent way to be first past the post and grab a captive audience before the site becomes flooded with brands.
Many potential sites are tipped to be the next huge trend, particularly with younger adults and teens. They are notoriously fickle about abandoning long-used platforms when something fresher and funnier comes along.
Mastodon is one of the potential competitors for Twitter, but you need to conduct in-depth research to make smart choices about how you make social media work for you.
Trend 5: Attention-Grabbing Videos for Time-Poor Consumers
Video advertising is becoming the number one way to leverage digital marketing opportunities and surpasses every other medium when it comes to engagement.
The Social Shepherd compiled some stats for 2023, showing that:
The three billion people watching, downloading, or streaming video at least every month in 2022 are expected to reach 3.5 billion this year.
Online videos can circulate to as much as 92% of the global audience – music, comedies, tutorials, and how-to's were up there with viral videos.
Lots of businesses recognize the value of video advertising but stubbornly insist on sticking with text and image content because it's cheaper, quicker, and easier to produce. Still, in return, it may be dropping further behind.
TikTok is a great example, and not a social media site originally perceived to hold value for digital marketers because of the short-form content style, but it's emerged as a serious tool for marketers who want to communicate directly with their audiences.
In fact, the replication of TikTok's formatting throughout YouTube Shorts, Twitter Fleets (which dive-bombed), and Instagram Reels, now also a Facebook feature, shows just how successful short-form videos have become.
People have limited time, attention, and interest, so replacing conventional ads with short, snappy, and to-the-point marketing could be a winner.
The key is to maximize the impact you make in just a few seconds, which makes video marketing a creative art form but one that is perfectly designed for mobile devices.
Trend 6: The Weight of Professionalism
You may not have expected us to talk about LinkedIn, a platform primarily used for B2B networking and job ads but hear us out!
Since 2015, LinkedIn has grown considerably, from 414 million worldwide users in 2015 to 875 million in 2022, stretching over 200 countries and regions – that's a big reach but, more notably, a real-person reach.
Thousands of Facebook and Instagram profiles belong to companies, brands, events, charities, pets; you name it, there's a social media account for it. The difference with LinkedIn is that, although the total platform audience looks smaller, it comprises actual people who pay attention to the feeds since they decide who they network with.
The nature of LinkedIn also means you can use precision targeting; rather than hoping somebody of a certain age who likes a certain hobby will be equally interested in your digital marketing campaign – you can target LinkedIn ads by:
Profession
Employer
Executive position
Location
Sector
Qualification level
Age
Although some of those characteristics are used in other marketing activities, LinkedIn tends to be far more up-to-date and correct since users are more likely to update their profiles when they start a new role or embark on a contract with a new company.
Another interesting fact is that LinkedIn Premium might be one of the highest-priced paid subscriptions for any social media site. However, that isn't a deterrent, with around 39% of all users deciding to use it.
The impact from a digital marketing perspective is a highly engaged audience, with enough accurate markers to make targeting more defined and pitch in a non-salesy way to an exact audience.
Trend 7: Ethics as a Marketing Strategy (But Make it Real!)
Over the past few years, the focus and awareness of ethics has expanded exponentially, and according to Procurious, 88% of consumers will not purchase from a company that they feel sources products unethically – think fast fashion brands paying workers pennies an hour in developing countries, or sourcing low-cost, low-quality fabrics made from environmentally damaging synthetics.
However, it's also paramount that any marketing strategy based on ethics is natural because any attempt to pitch an ad as ethical that isn't can cause serious reputational damage.
Consumers have started to make conscious decisions based on how they feel about the brand behind a product or service. A stand-out company that makes tangible, real efforts to contribute to communities, causes, or world issues such as poverty and global warming can see that investment in ethical trading paid back in revenues and brand trust.
Capitalism has become a dirty word, so if you're trying to sell, you need to be very mindful about what you're offering and how it may be perceived by ethically and socially conscious consumers.
This factor can be tricky for profit-making businesses, but the core focus should be honesty, clarity, and transparency rather than making a token gesture and calling it good.
Cause-related marketing is a growing opportunity where digital marketers look at how the brand they represent or work for operates, from carbon emissions to ethical and inclusive hiring structures and logistics and material sourcing.
Here are some great examples:
Gillette's partnership with Raheem Sterling, the superstar footballer called Made of What Matters, worked with Football Beyond Borders, a charity focused on social inclusion and education through sports. The campaign videos were based on how football can help disadvantaged young people rather than the benefits of a close shave.
Virgin Atlantic created a new uniform policy in 2022 to recognize gender identity, moving away from the conventional red skirt suit for women and waistcoats for men. The non-binary uniform wasn't specifically selling flights but was supported by LGBTQIA+ figurehead Michelle Visage, a judge on Ru Paul's Drag Race.
British chocolate brand Cadbury created a campaign called Donate Your Words, contributing £0.30 from every chocolate bar sold to Age UK through a promotion around combating loneliness in the elderly and removing wording from packaging.
Each of these campaigns from household name brands cemented their status as a company that cares about issues or topics relevant to their product or service and their audience; using this same approach can produce greater brand awareness than any slick sales ad!
Trend 8: Quality Content Without a Keyword in Sight
Now, SEO is far from a new concept to any digital marketer. The way Google crawls and indexes online content continues to evolve, and the halcyon days of reaching page one of the SERP by some less-than-artful keyword stuffing are gone.
Algorithms are increasingly smarter (see trend one above!), and if you want to grow your presence organically, you must do so in the right way. People and AI can differentiate between engineered content packed with long-tail key phrases or obvious anchor texts. They want to digest topics and content that is meaningful, useful, and written by a real-life human.
There is a balance between quick content generation and brand positioning. SEO is fast becoming an advocate for great information architecture, true quality content, and providing answers to actual questions rather than picking up on a few keywords and running with them.
Keywords aren't irrelevant, but the perspective in how we use them as digital marketers must change, with Google recognizing sites that provide thorough responses to questions rather than a brilliantly engineered page that is purely there for backlinks.
In short, strategies that were once an easy win could be harmful, including keyword stuffing, spam links, and buying email lists. Steer clear.
Trend 9: Experience Is Everything
We touched on this earlier, but the customer experience is now fundamental to how they feel about a brand, with a whopping 93% of people making buying decisions based on reviews, according to Podium.
You can find testimonials, and rating scores everywhere, from social media brand pages to third-party sites such as Trustpilot or Reviews.io, featured in sectors as diverse as fashion to banking.
Digital marketers know that social proof is a big deal. Still, by prioritizing the satisfaction of every visitor and making their experience as positive and beneficial as possible, they can grow their review history and base their branding on outstanding customer service.
There are tons of ways to improve experiences using tech, for example:
Dynamic web pages that auto-update currencies, shopping options, or stock availability.
High-powered chatbots to provide immediate answers to customer inquiries.
Personalized landing pages, emails, and order acknowledgments.
Site structures should be clear and intuitive, customers should have multiple ways to contact a company according to their preferences, and any obstacles to a smooth, easy transaction should be removed.
Interestingly, responses to negative ads are also proving to be a powerful tool; deleting a bad review or ignoring an angry social media post is never a good move. Rather, brands that are authentic with their replies, and add context to the comment or apologize if they've got it wrong can turn a negative into a positive.
Trend 10: Inclusivity and Accessibility – & Not as an Afterthought
We talked about the growing consumer focus on ethics and brand responsibility, which extends beyond publicly visible charitable gestures and into the framework and structure of a business itself.
Inclusivity and accessibility are significant to today's audiences, and brands that proactively adapt and expand their services or touchpoints can improve perceptions, engagement, and reach.
Again, technology makes it possible to adjust web pages, marketing content, and material to any audience. Failing to do so can cut off swathes of people from accessing your brand. Think:
Designing websites for people with limited visibility or conditions affecting their sight.
Adding sign language translations to video content.
Using braille on physical marketing materials.
Adapting stores to make them easy to navigate with a wheelchair or mobility aid.
Inclusive recruitment policies, ethical pay for employees of all gender, and partnerships with trusted organizations that drive social inclusion are excellent points to showcase in your press release activity. Still, these approaches must be genuine to work.
As we've seen with greenwashing, paying lip service to inclusivity or accessibility doesn't work, and an educated audience sees through it. Minority demographics, inclusive brand representation, and considerate marketing are already influential but likely to become more of a focus throughout the digital marketing world.
Trend 11: The Google Analytics Upgrade
July 2023 saw the launch of a new version of Google Analytics, called GA4, and every digital marketer must know how the update works.
We use GA for countless purposes, from collecting website traffic data to extracting metrics and business insights.
GA4 is here, however testing the functionality and reporting capabilities  will ensure you're fully up to speed. It's also worth using any of the thousands of online courses if you encounter blips while transitioning over.
Remember, data privacy rules and legislation are also fundamental, so if you're reliant on any alternative analytics software, be sure to verify that it's compliant with all the relevant regulations in your jurisdiction and sector.
Trend 12: Yesterday's Youth Are Today's Audiences
Our final digital marketing trend concerns demographic-based marketing because so many brands focus on higher-earning adults with a disposable income that they fail to recognize that their digital marketing efforts are ignoring a huge proportion of the population about to become the next big spenders.
Of course, a lot depends on the products, brand, or service you're marketing, but Gen Z (born between the late 1990s and early 2010s) is becoming one of the largest audiences and consumer groups.
Shopping habits, expectations, and interactions vary considerably between age groups. If your digital marketing strategy hasn't been refreshed for a couple of years, it'd be wise to evaluate how you target, engage with, and cater to this group and where you need to make changes.
There are many options, from analyzing the average age of website / social media / promotional viewers to revising your messaging and branding or focusing on a face-lift where necessary to position your marketing activities to attract Gen Z.
Picking Digital Marketing Trends to Focus On
It's impossible to select one digital marketing trend that will be most impactful for all digital marketers because strategies, approaches, and demographics differ wildly, but staying ahead of trends, and recognizing opportunities, can make a phenomenal difference to your campaigns.
While AI is a huge movement, it's also necessary to go back to basics, looking at aspects of digital marketing such as customer experiences and brand ethics, which can all impact the outcome of any promotional activities.