The Big Apple is one of the world's most vibrant, diverse, and energetic cities, and The City That Never Sleeps has to be among the dream locations for any digital marketer to set up camp. But how expensive is New York really – and what sort of salary would you need to live comfortably?
If you're considering New York City, you already know that the home of Broadway, Wall Street, and the iconic Empire State Building is a global hub of business and the address every company, agency, and professional wants on their business cards.
However, it's also one of the most expensive cities you could move to, with rental costs almost 45% higher than even London, groceries costing a whopping 66% more, and even restaurants charging approximately 2% higher.
That said, it's essential to keep your earning potential in mind because those figures don't account for the fact that purchasing power is actually over 20% higher, with an average salary of $89,564 (according to Statista) in 2022 – people working in New York City take home a tidy 55.8% more than their counterparts in London!
We'll run through the average costs of everything from accommodation to childcare and demonstrate the income you should aim for if your heart is set on the bright lights of NYC.
Why Is New York Such a Popular Place to Live?
New York has a reputation that precedes it as the background for countless Hollywood movies that make so many of the landmarks feel immediately familiar, even for first-time visitors. It's not the history or attractions that make the city such a huge draw for professionals, though; it's the unique environment.
It's expensive, no doubt, but within the context of higher salaries and faster career progression, living in New York City might not feel very different financially from other cities with more affordable general costs but a drop in wages. For example, a marketing manager living elsewhere in the States can make a good 9% more, and a legal professional over 10% higher.
The other incentive is that, as you'd probably expect from the 'unofficial capital of the world,' everything happens in New York. It's fast-paced, energetic, and thrives on success, as the epicenter of countless industries, and with a huge array of businesses that, in turn, make it a central place for digital marketers helping those thousands of companies stay ahead of the game.
Moving to New York City doesn't mean you'll land on your feet with your ideal job straight away since competition is pretty fierce, and you'll be up against the top talent flocking to the city from around the world. However, if you're ambitious and keen to climb the career ladder as quickly as possible, there's no place you'll be able to as rapidly as New York.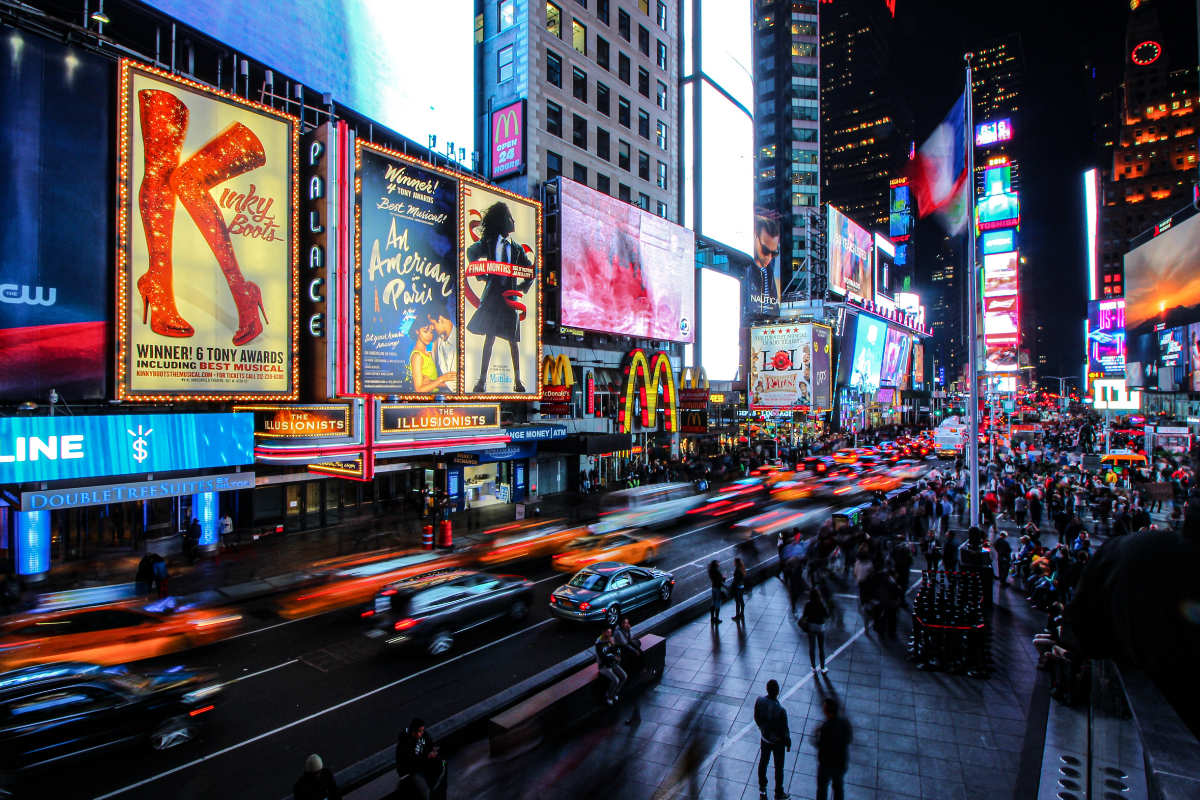 When it comes to the lifestyle, you're spoiled for choice. The nightlife, fine dining, parks, museums, festivals, clubs, art galleries – it's all right here.
How about families with kids? The endless number of things to do (most for free!) make New York equally enticing for marketers with families, whether they'd like to enroll their little ones in one of the most prestigious schools in the world or simply want to live in a city where they can nip to the Museum of Natural History, picnic in Central Park and stroll through Manhattan all in one day. In fact, New York State was named among the top three places in the US to raise kids in a WalletHub 2023 report.
Average Cost of Living in New York City
As a city with a population of 8.468 million – just a bit lower than London – New York City is a big place! The budget you need to live here will depend on lots of variables, including where you plan to live, whether you intend to rent or buy, and how far you'll need to commute.
Very roughly, a single person tends to need around $1,500 a month, excluding rent, whereas a family of four people will require somewhere around $5,500.
New York City Housing Costs
Over two-thirds of New York residents rent their properties, primarily because real estate is worth its weight in gold (well, almost). It's extremely expensive to buy anywhere close to the city center, and neighborhoods around Fifth Avenue, the Upper West Side, and TriBeCa are really only accessible to buyers with a lot more than a cool million to spend.
However, there are some less pricey districts, with the median average property price in Brighton Beach a more viable $599,000, and Coney Island homes selling for around $465,000, according to Realtor.
If you're renting, you'll need to spend about $3,750 a month on a central apartment or $2,500 a month if you live further out. Most renters, especially those new to New York City, opt to share since it can reduce those averages four or five times over. Brick Overground says that roommates pay an average of $1,559 a month, although you can find more affordable accommodation outside the metropolitan area.
Utility Costs in New York City
You'll need to consider utilities alongside your rent or mortgage payments. The average cost of basic amenities like electricity and gas comes in at $176 a month for an average-sized apartment. Most landlords include heating and hot water, although that isn't always the case, so be sure to check the lease carefully before you sign on the dotted line!
Tenant's insurance is highly advisable since a landlord won't typically insure your belongings, plus you'll pay around $50 per month for a mobile contract and $75 per month for a decent internet connection.
If you're sharing, the norm is to split costs like broadband and TV subscriptions between the number of tenants, so you can contribute equally to optional extras like a Netflix account or go for a super-cheap Firestick or similar to keep your entertainment costs down to a minimum.
A proportion of apartments won't have their own washer/dryer. If you're living in an apartment building, you might have a laundry room, usually in the basement, but you should budget a good $15+ per month if you're using a laundromat.
New York City Transport Costs
While we'd all like to be one of those people who flags down a characteristic yellow New York taxi with one flick of the wrist, cabs aren't cheap – the average fare starts at $5 when you jump in and increases by up to $2 per kilometer, with a standard tariff of about $30 for waiting time.
You can buy a car or take your vehicle with you when you move, although only 23% of people choose to drive since the costs of fuel and the absence of parking spaces can make this stressful, especially if you're expecting to navigate downtown during peak rush hour.
Public transport is significantly cheaper, and with lots of options, it's also very easy. About 39% of New Yorkers rely on the subway, but you can also take the bus or commuter rail, carpool with colleagues, or take the ferry. A one-way subway ticket costs $2.75, or you can pick up a monthly pass for $127 if you're expecting to use the metro system regularly. These prices are capped by the Metropolitan Transportation Authority.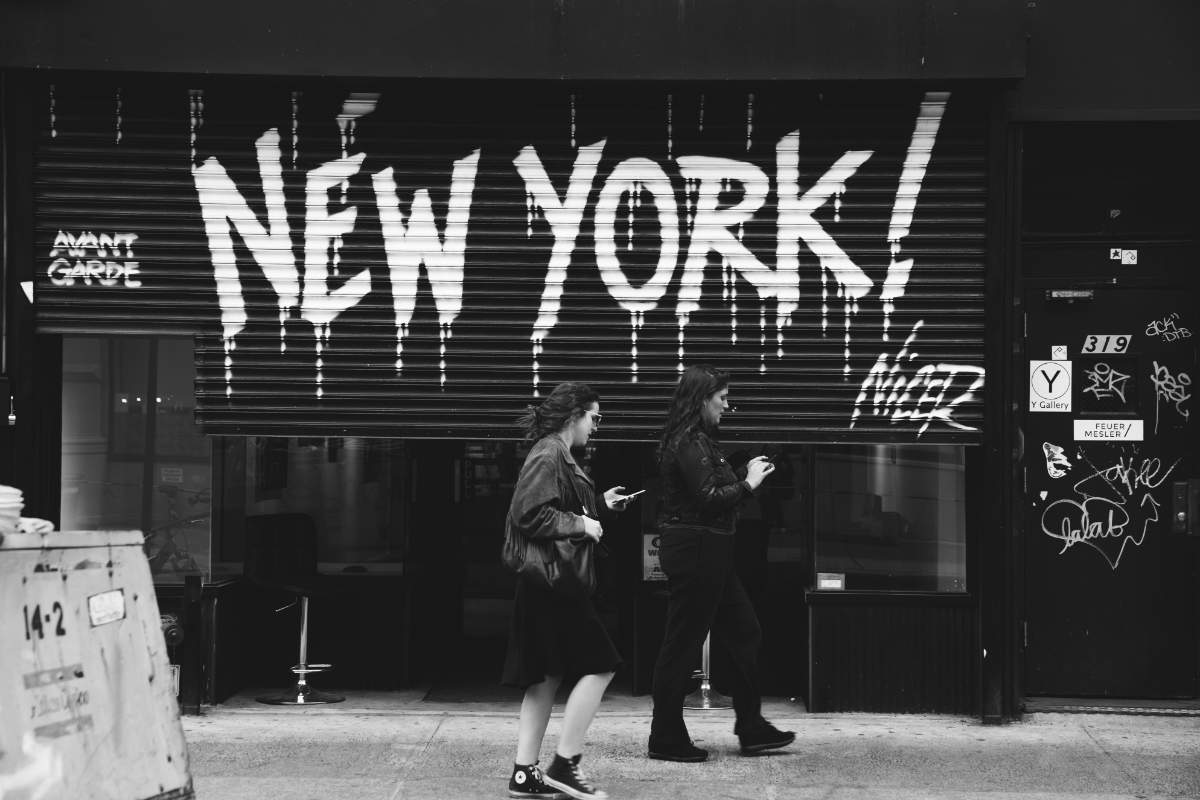 Eating Out in New York City
The food in New York is as infamous as its skyline, and you can pick from Michelin-starred fine dining restaurants, some of the best bagels, pastrami, and pizza outside of Italy, or sample freshly made rice rolls from the eateries and street food vendors in Chinatown.
Restaurant prices vary as widely as the menus, with a standard chain outlet charging about $25 for a meal, whereas in a mid-range restaurant, you'd expect to pay closer to $100. If you're watching your budget, you can shop at Trader Joe's, Dollar General, Aldi, or your local Food Bazaar and cook at home.
How Much Do You Need to Earn to Live in New York City?
Salaries in New York depend heavily on what you do and whether you're in an entry-level or more senior position. As a guide, 80% of people earn between $31,200 and $150,000 – although that's a huge spectrum! A 'good' income is normally considered anything above $60,000, which is more than achievable. However, most people aim for $100,000 or above to live comfortably.
Net monthly earnings, after tax, are $6,457 on average, but the income you need will depend on whether you have kids, how much your accommodation costs, and other outgoings like health insurance. Most employers will include health benefits in your salary, which can make a slightly lower pay rate a great compromise since you'll often save a substantial amount if your insurance is covered.
NYC sets a living wage, currently at $15, which is also the legal minimum any employer needs to pay. Note that if you're working outside New York City, minimum wage drops slightly to $14.20 in the rest of New York State.
Living in New York City as a Student
Studying in New York City can be the chance of a lifetime. Still, it also requires a reasonable budget depending on whether you're eligible for bursaries, grants, or scholarships towards the cost of tuition, accommodation, and other living costs.
Indicatively, if you're studying at NYU for an undergraduate degree, the university Cost of Attendance includes the following:
$60,438 in tuition fees for two semesters
$24,102 in housing and food
$1,494 towards supplies and books
$1,154 in transportation costs
An additional $3,034 in personal expenses
Costs will depend on the type of course you're taking, whether you live on-campus or elsewhere, and your eligibility for financial aid. Sharing a room in campus accommodation can be much cheaper than renting while also reducing your travel costs – students have Wi-Fi, a phone service, and cable included in their fees.
Family Costs in New York City
Raising a family in New York City also means you'll need a sizable budget if you're relying on childcare while you're at work. A private kindergarten charges an average of $2,494 per month per child, and if you're enrolling your kids in an international primary, you'll pay about $40,580 a year.
However, there are plenty of public schools which are open to all and free to attend, although you'll need to budget for books and school supplies as well as transport costs if the school requires a contribution towards the school bus or you plan to take your child to school each day.
The Economic Policy Institute estimates that parents spend $15,394 per year raising one infant or toddler, including childcare. New York is the sixth most expensive state in the US, with average costs increasing to $27,752 for families with two children.
Finding a Job in New York City
As we've seen, New York is far from a cheap place to live, but it's also a city brimming with opportunity and provides digital marketers who have the enthusiasm and tenacity to succeed a chance to become firmly established and earn an excellent wage.
Finding a job quickly is the priority, and the positive is that with around 22,000 businesses within the metropolitan area, there are thousands of careers open to applicants.
You can browse digital marketing jobs in NYC and apply directly for any roles that catch your eye.
Our current vacancies include on-site, remote jobs, and hybrid positions, full-time roles in SEO, PPC, social media jobs, and analytics, and jobs suited to digital marketers either looking for assistant-level employment or applying for executive positions.
Registering your resume and setting up a job alert is a great way to be the first to know when a new position becomes available to candidates, and we'd recommend spending sufficient time polishing your resume to ensure you catch the eye of recruiters who tend to be flooded with applications for high-paying roles!
We hope you've now got a great idea about what sort of salary you need to earn to live in New York City and what your monthly outgoings are likely to look like.
And, as the song says, if you can make it in NYC, you can make it anywhere.