You may have come across some of the best practices to optimize conversion rate for your website, landing pages, or sign-up forms. Sometimes they work, sometimes they don't. Because converting visitors into paying customers takes more than just that.
You'd have to go beyond those to understand users' needs and trigger points. There are probably many myths doing their rounds on the internet for conversion optimization. They are nothing but ineffective when it comes to actually converting users into your long-term customers.
For an above-average conversion rate, you'd first have to understand aspects and website design elements that trigger users to take or not to take the next step. Before we get into that, let's first understand the concept of conversion rate optimization (CRO) and how it is calculated.
Understanding Conversion Rate and Its Calculation
As business owners, we regularly encounter & measure conversion rates whenever we choose a new medium or a channel to acquire new customers. It's one of the most important metrics to keep your eyes fixed on. It helps to acknowledge the effectiveness of the medium to achieve the desired growth.
In general terms, conversion rate optimization (CRO) can be defined as a systematic approach that helps increase the percentage of users by fostering them to take desired actions.
The best and organic way to improve your conversion rate is by implementing strategic SEO. Search engine and conversion rate optimization both are remotely relevant to each other. Improving one helps enhance the other.
Before getting on to effective ways that help you optimize conversion rate, it's important to understand how it's calculated.
Calculating Conversion Rate
Conversion rate is measured by dividing the number of users who took desired action (converted) against the total visitors multiplied by 100 to get the percentage value. Here's a simple equation with an example:

For instance, let's say you get 1000 visits to your landing page but, out of those, only 68 people have taken the desired action either by clicking CTA or signing up. The conversion rate as per the above formula would be,
Conversion rate = (68/1000) * 100 = 6.8%
This is just an example, the actual conversion rate for your website or landing page may vary and can simply be calculated by applying the formula. However, the best or average conversion rate is somewhere between 2 to 5%.
Importance of Conversion Rate Optimization
The above-mentioned definition and formula of the CRO place more emphasis on a numerical approach. The downside of the same is the more you look at the data, the less you are able to understand what drives your customers to take the desired action.
Thus, the more holistic and user-centric approach would be to know what triggers, stops, and persuades them by offering the best possible user experience. Your website needs to be designed and developed in a way that supports your conversion goals. An expert website design and development team helps in optimizing user experience, conversions, and SEO.
Not every conversion-related problem will be backed by numbers. Sometimes fixing bugs or changing the color of your CTA can help improve the CRO. But not every time. It may seem that everything is fine and in order. Still, users are not converting as you'd have hoped for.
That's when the importance of a user-centric CRO approach is realized. Here, we present some of the effective tips that focus on the users' needs and help remove any bottlenecks to achieve above-average conversion standards to ultimately improve rankings: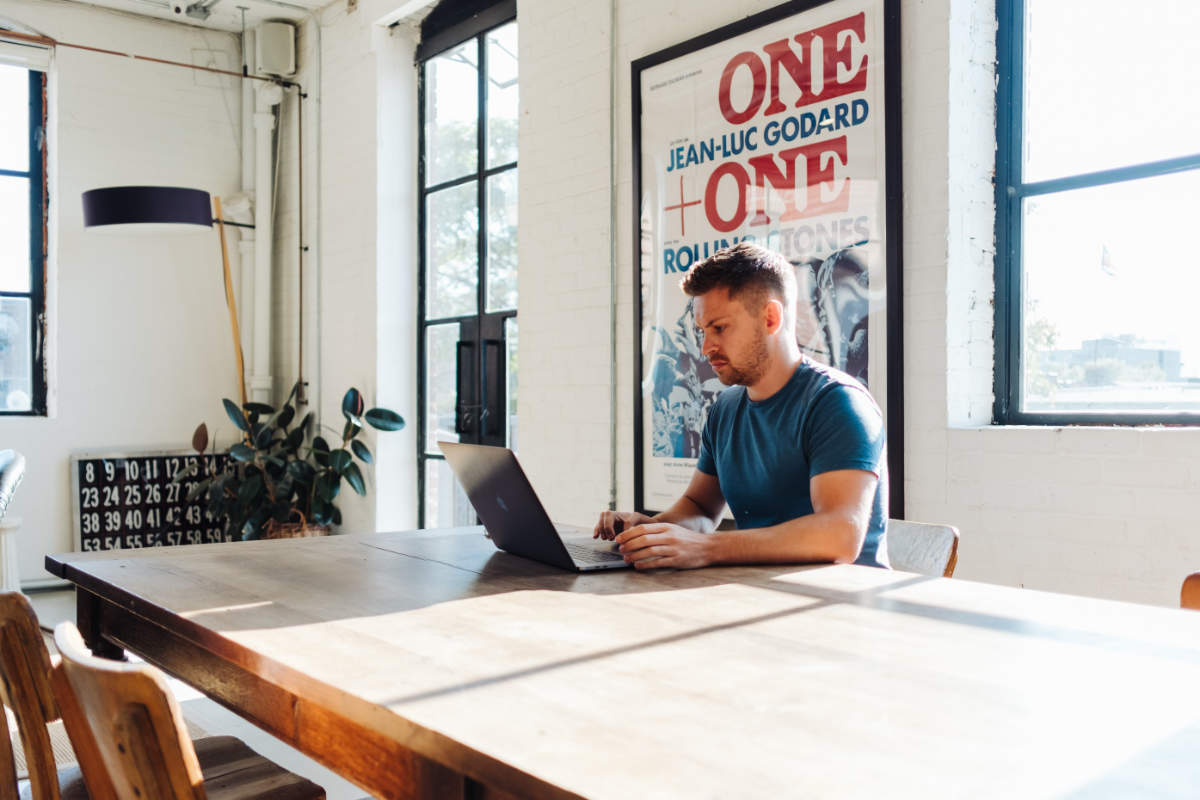 9 Impressive Tips for Improving Conversion Rate to Boost Your Rankings
1. Improve Page Load Speed
Remember those days when your car would break down midway and you'd have to push it forward to try and restart. Imagine this happening in today's age, would you like to be in such a car or own one?
No! Right?
Similarly, no one likes to wait for more than a couple of seconds for the page to load and become interactive. As per one study, 53% of visitors would abandon a site if it takes more than 3 seconds to load. Each additional second of delay in page load time impacts the conversion rate negatively by 4.42%.
Fast loading websites are an essential element not only from a conversion rate but also from an SEO perspective. Page speed is already a ranking single for Google. And the latest Core Web Vitals update from Google emphasizes the same. Thus, ensure your website pages load as fast as possible.
2. Optimize Your Content
Content optimization and personalization favor the user-centric design approach of improving your CRO. By offering dynamic content, you can tailor your users' experience to maximize engagement, click-through rate, conversions, and revenue.
Not only this, higher engagements indicate to Google that you are offering quality and authority content that users are more likely to engage with. This gives a much-needed boost in rankings too.
Also, tailoring dynamic content based on the user data, behavior, location, etc. will help you hack the user intent for your site visitors. From dynamic product suggestions to geo-specific recommendations, you are sure to be included in the users' as well as Google's good books.
3. Add Better Social Proof
Social proof in the form of case studies, testimonials, reviews, trust scores, or anything else adds value & trust factor for your claims. It's evidence that people have purchased your products or services and are worthy for others to buy as well.
Reviews are the most utilized form of social proof by brands. And there's a reason for that. As per HubSpot, an average customer reads 10 reviews before making a purchase and 88% of consumers trust user reviews as much as personal recommendations.
Social proof such as social media posts, ratings, reviews, etc. from customers or influencers can also be utilized as user-generated content. Since the purpose of adding social proof is to build trust around your brand, it can potentially improve your conversion and search optimization.
4. Boost User Experience With Neuro Design
Neuroscience is the newest trend in work to design digital products that are visually appealing and captivating for web users. It enables UX designers to tailor the customer's experience with your brand.
Neurodesign is a science-backed process that helps designers make better and more informed decisions by looking at the brain triggers, customer behavior, and human trends to interpret a good user experience.
The core behind neuro design is to understand behavioral and contextual elements before making a decision and not just make any assumptions. By understanding the psychology of the human brain, you can personalize the experience that best resonates with your users and improve your conversion.
5. Include Videos & Other Visual Elements
As per Wistia's research, demand for video content was at an all-time high in 2021. Another study found that 59% of executives prefer video over text, while 83% of video marketers believe videos have helped increase the average time users spend on a page.
Thus, adding videos and other visual elements to your web pages is an effective way to improve conversion as well as chances for ranking high on Google SERP. The time users spend after clicking a SERP link is known as Dwell time.
Google may put this data to use for ranking pages high on SERP that brings more traffic and helps convert more users. Thus, utilize the videos and other visual elements on your product or service pages.
6. Use Pop-Ups Carefully
I know, I know, the first thing you'd have thought about pop-ups is they are an annoying piece of…
But let's just step back and analyze — are they?
As per a study by Sumo.com, pop-ups have an average conversion rate of 3.09%, which can go up to 9.28% for 10% of highest performing ones.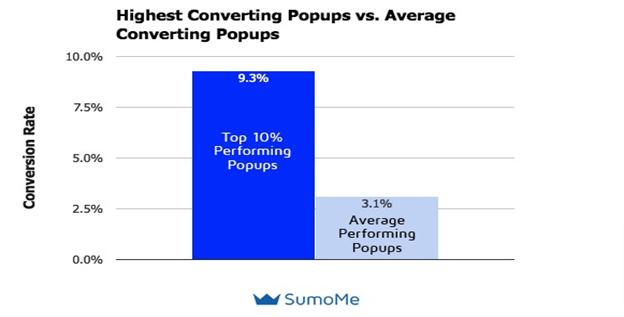 So, the question is how do they have achieved success with popups?
The answer is if best practices for popups are not followed, it can easily annoy your users. But if you do follow, popups can be immensely beneficial for your business. Brands that implemented popups, saw a significant increase in leads, subscriptions, and revenue generation.
Thus, it wouldn't be wise to ignore the usefulness of popups in boosting your conversions.
7. Optimizing High-Converting Web Pages & Blogs
Strategically optimized web pages and blogs make all the difference for visitors. From just browsing to taking desired actions, your blogs and web pages should compel users to do so. It shouldn't feel cluttered with too many elements, content, or aggressive ads.
Ensure your high-converting pages are designed in a simple way to offer a frictionless and distraction-free experience to your visitors. Keep an ample amount of white space where necessary to make everything seem aesthetically elegant.
Sometimes, focusing on writing captivating headlines is more than enough to boost the conversion rate. Also, pay attention to above-the-fold content, which is by far the most important aspect of visually attracting and converting users.
8. Include Text-Based CTAs in Blogs
Users have become selective about things to pay attention to on online platforms. They consciously ignore information presented in banners, which is termed as Banner Blindness.
Text-based CTA is a user-friendly practice where a link is added in a standalone line of your blogs that leads to either a landing page or a relevant service page. It's a handy approach when you want to convert blog traffic into leads and ultimately your long-term customers.
Moreover, internal linking your pages indicate what are the important pages on your website that need to rank higher on Google SERP. Thus, utilize text-based CTAs more appropriately on your blogs.
9. Run Tests for Conversion Optimization
The simple answer to conversion rate optimization is there's no single, unified way to optimize your conversions. Since conversion rate differs from industry to industry and depends on the type of audience, you'd have to run different tests to find what works best for you.
A/B or split testing is a great way to discover or even innovate the best design, content, color pallets, personalization, etc. You can test different versions of your landing pages to find what sort of optimization hacks work best and result in higher conversions.
After you've found the best version that classifies as a quality web copy, images, and visuals, the chances of that page ranking high on the Google SERP increases.
Wrapping Up
Users have evolved and so are conversion triggers and SEO. The key to conversion rate optimization for higher SERP ranking can be found inside the user behavior data. Monitor what are the trigger points for users to take the next step and go down your marketing funnel.
Based on those triggers, behavior, and user trends, adopt a more holistic and user-centric approach for conversion rate optimization.
Meanwhile, the above-mentioned CRO tips would help you focus on improving user interaction and experience. Doing so will significantly impact your traffic, leads, and revenue generation along with a boost in SEO.